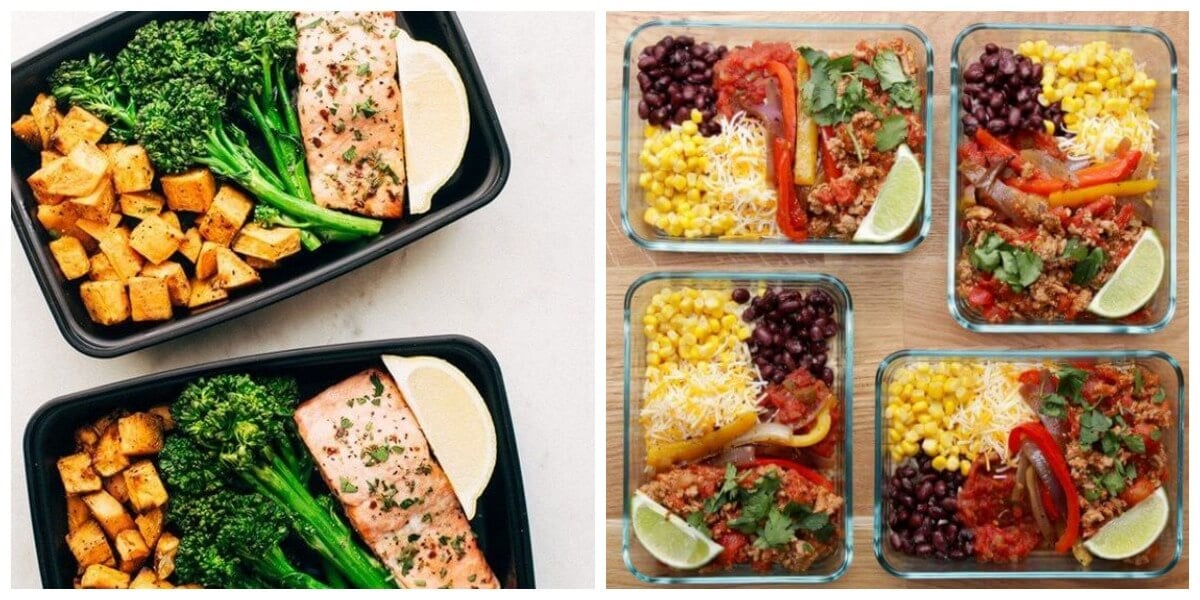 Meal Prep Ideas –
Easy Peasy! Plan your week in meals out with these awesomely delicious recipes!
Amazon always has awesome storage containers for your weekly meal prep too!
1. Rainbow Chicken & Veggies
What a beautiful lunch filled with veggies to eat every day! Check out the recipe here!
 2. Turkey Taco Bowl

A Turkey Taco Bowl is always a good idea! This is a healthy meal prep idea too with quinoa instead of rice!
3. Country Breakfast Bowls

Meal Prepping breakfast is super smart! I'd love to have this every morning! Check out the recipe!
4. Roasted Salmon Sweet Potatoes & Broccolini

Roasted Salmon with potatoes and broccoli. YUM! Check out how to make this recipe here!
5.  Chicken Burrito Bowls
This has to be my favorite lunch option! All the guac, chicken, veggies.. yum! Customize it to fit your needs too! Take a look at the recipe here!
6. Breakfast Stuffed Peppers
You can stuff peppers with anything! Even breakfast! Take a look at this recipe!
7. Bento Boxes
Bento Boxes are my favorite because you literally put all of your favorite stuff into a box and call it a day! Check out what cleanfoodcruch.com did!
8. Turkey Meatloaf
THE MEATLOAF! Mybodymykitchen.com has a delicious lunch option that will last you the whole week!
9. Fit Protein Box
Protein is an essential way to start your day! Take a look at what they did here!
10. Hardboiled Eggs, Broccoli, Sweet Potato
Vegetarian option! Love this a lot – it looks delicious! Check out what thisbeautifuldayblog.com did!