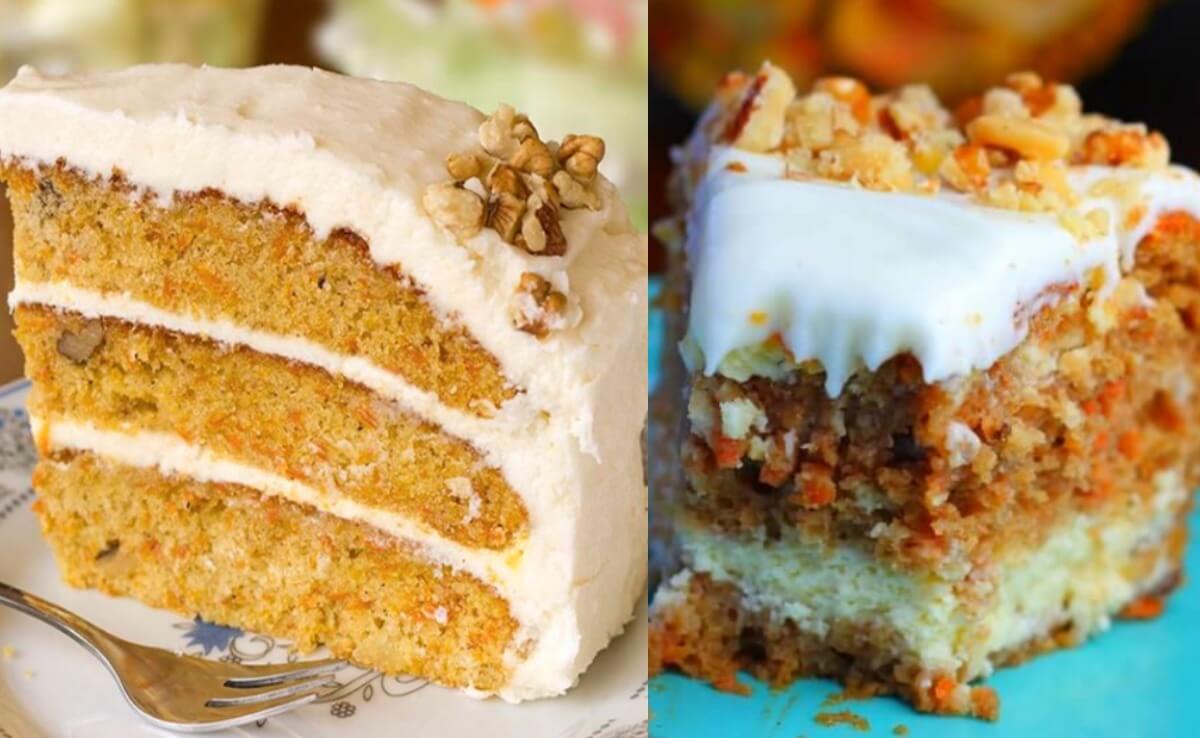 Carrot Cake Recipe –
Around here carrot cake can spark some pretty intense feelings.  But this traditional cake is one that has fans everywhere.  You can start with your traditional recipe and take it from there with this list of the most delicious recipes you can find on Pinterest.  Explore adding different ingredients, making restaurant copycats or checking out a paleo and keto versions of this favorite.  We have covered all the bases.
Plus with National Carrot Cake Day being February 3rd – we had to celebrate!
1. Carrot Cake with Cream Cheese Frosting
Your traditional family favorite carrot cake recipe.  This cake is jammed pack with walnuts and pineapple.  The cream cheese frosting is the final step that brings this home.
 2. Pecan Pineapple Carrot Cake
You will love the additional moisture the pineapple brings. The traditional cream cheese frosting has been replaced by Italian buttercream.  It make have an extra step but you'll be glad you did it.
3. Mango Carrot Cake
This recipe take your traditional recipe and adds a tropical twist with a hint of mango and banana.  You will also love that this recipe is completely vegan.
4. Carrot Cake with Caramel Frosting
Need to bake a cake that is sure to wow everyone?  This caramel accented recipe tastes delicious and looks completely decadent

5.Nothing Bundt Cake's Carrot Cake Copycat
Love Nothing Bundt Cakes but don't love the price? You can recreate this favorite at home easily. This recipe uses cake mix!

6. Carrot Cake Roll
Missing that Yule log? I don't blame you, I am in the same boat.  This carrot cake roll is something you can make year round.

7. Carrot Cake Loaf
Who says it is not ok to have cake for breakfast? It has flour. It has eggs. It even has vegetables!  Go ahead guys, this loaf is perfect with your morning coffee.
8. Carrot Pudding Poke Cake
This recipe could not be any simpler or more convenient. It uses cake and pudding mix to get the job done.  It could be perfect to bring to a potluck event.
9. Cheesecake Factory Carrot Cake Cheesecake
Here is another variation of this classic cake.  This one has a swirled cheesecake base and a cream cheese frosting topping. It's a favorite at Cheesecake factory you can enjoy at home!
10. Carrot Cake Trifle
Worried that your cakes never look as nice as Pinterest posts?  No guilty feeling with this trifle.  It only looks a little messy but it is crazy good!
11. Sugar Free Carrot Cake
If you've always had reservations about how sweet carrot cake it, here's your sugar free alternative.  This recipe uses sweetener substitutes without compromising the taste.
12. 3 Layer Paleo Carrot Cake
This cake is a real crowd-pleaser. Plus it is also healthy without compromising in yumminess. The frosting is also paleo so enjoy.
13. Gluten-Free Carrot Cake
This amazingly delicious cake will make those on special diets extra happy. Use your favorite gluten free flour to whip this one up.
14. Keto Carrot Cake
This recipe is jammed pack with flavor. So do not be afraid of using those spices. The rich keto cream cheese frosting brings the perfect added sweetness to this cake.
15. Carrot Cake for Two
Let's face it, sometimes you feel like a sweet treat but want to avoid the temptation of having a "whole" cake in the house.  Make this recipe for times when you want to bake something special but don't want to be tempted by leftovers.
It's the Most Wonderful Time of Year: