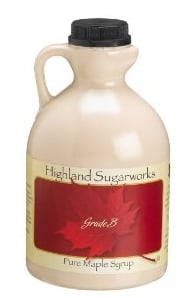 Amazon has Highland Sugarworks 100% Grade B Maple Syrup 32 oz jug 25% off  for only $13.73.  To get the discounts, choose Subscribe & Save and then use coupon code: HIGHLAND at checkout.  Your cart will look like this:
There is a bigger selection of the Highland syrups as well as pancake mixes all with the same discounts.  From what I have found out, the Grade B is a better syrup with a more intense flavor.  After checking around, I have found this price to be excellent for a pure maple syrup.
Remember, once the item has shipped you can cancel Subscribe & Save.
Has anyone tried this brand?  I am making my first maple syrup purchase and I'm excited to try it out.  I may never use Aunt Jemima again.