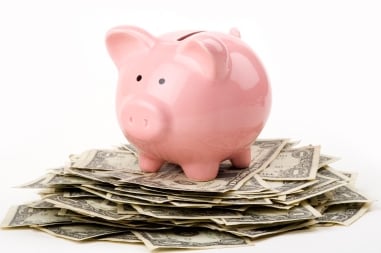 Have you wondered what happened to my monthly grocery budget posts?  Well, since the next round of numbers ended in the middle of February I decided to wait until the end of February to report.   For one very good reason.  February 28th marked exactly one year that I have kept track of my grocery budget.
If you had been following along each month you could see the savings that I posted.  Well, now that we have made it to one year I am so thrilled to report in my numbers.
Before I tell you how we did I want to point out a couple of things.  First, I know a lot of you are new to couponing.  Don't be overwhelmed by the amount of coupons or deals that are out there.  Start slow, do a little at a time.  Build up your stockpile and you will slowly see your numbers go down.  And second, don't feel like you have to use the same amount of coupons or deals that I use.  If you want to that is fine and of course your savings will be big but I want you all to know that going to the grocery store and saving $20 a week is a big savings.  A savings that equals out to $1000 a year.  So, don't judge your success or failure on how others are doing.  You need to do what is right for you and your family.
::CRUNCHING THE NUMBERS
Okay, with that said, here are my 1 year numbers from March 1, 2009 – February 28, 2010.
Total spent for the year: $3863.90.  That equals $321.99 per month or $74.31 per week.
My goal was $75 a week so I can't believe I made it.  Almost exactly!
::MY SAVINGS
Previously we had spent $250 per week easily.  That equals $13,000 per year.  So our savings:
$13,000 – $3863.90 = $9136.10 SAVED!! Woohoo!

::WIN A $50 TARGET GIFT CARD
Now for the fun part.  I am so excited about my savings that I want to celebrate.  So, as part of my celebration and to thank you guys for being awesome readers, I am giving away a $50 Target Gift Card to one lucky LRWC winner.  Yeap!  Here is what you need to do to win:
The giveaway will end Friday (3/5/10) at 11:59 pm EST. There are 4 very simple ways to enter.  Do one or do all.
1. Leave a Comment -Tell us how much you saved in February at the grocery store.  If you have just started couponing, tell us your plan to save in March.
2. Follow My Blog Via Email or Reader – you can subscribe in the right sidebar. Please be sure to comment back to let me know you did it. If you are already following LRWC via email or reader just leave a seperate comment letting me know.
3. Follow Me On Twitter – Follow me on Twitter at www.twitter.com/LivinRichCoupon and Tweet about this giveaway. Make sure to copy me on your tweet by adding @LivinRichCoupon. Also comment back on the post that you have done this.
4. Follow Me On Facebook – Use the facebook link on the right sidebar. Please be sure to comment back to let me know you did it.  If you are already a facebook fan just leave a comment letting me know.
Good Luck!!
Note: Target did not sponsor this giveaway.  The Target gift card is a gift from LRWC and paid for by LRWC.
Photo Credit