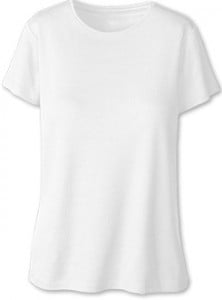 Oh for goodness sakes, I caved.  When this 50% code came out the other day for Coldwater Creek I held back because I had just gotten a bunch of new tops at great prices.  I wanted a couple of more tops but I couldn't justify the shipping cost.  Well, hello…Free Shipping today and through 6/6/10.  So, I caved.  I ordered 2 of these basic tees from the outlet store. One in white and one in black.  Got both for only $9.99 shipped.  I couldn't help myself.  These are just awesome prices and the clothes from Coldwater Creek fit me perfectly.  And, I get to order a size smaller then I normally buy which always makes me feel better 🙂
You can check it out here. Use coupon code: WHH9216 which gives you 50% off and Free shipping and it works on outlet items as well.
Don't forget to shop first through Ebates to score 2% cash back and an additional $5 if you are new to Ebates. Every little bit helps and it's just a simple click of a button for a few bucks.