The following is a guest post from Liz at Hoosier Homemade.
What's better than a cool, refreshing glass of Pink Lemonade? A Pink Lemonade Cupcake to go along with it of course!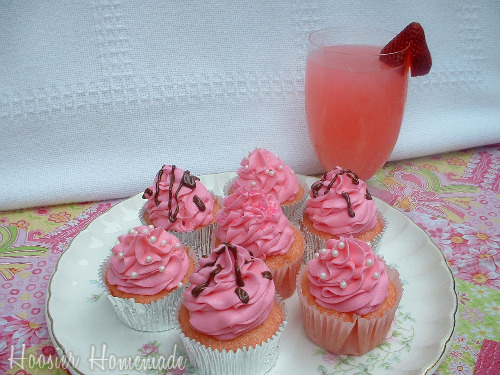 Thanks so much for having me Cindy! I'm just thrilled to be sharing my Pink Lemonade Cupcakes with your readers.
Starting with a cake mix can not only save you time but also money. I like baking from scratch most of the time, but when I bake and create cupcakes, I almost always start with a box mix. Walmart has either Betty Crocker or Duncan Hines cake mixes usually around $.88 cents per mix.
When I use a cake mix, I always add a couple extra ingredients to make it taste like it's from scratch.
Pink Lemonade Cupcakes Recipe:
White Cake Mix, plus ingredients listed on box
3/4 cup frozen Pink Lemonade mix, thawed and undiluted
1 tablespoon lemon peel, grated
Directions:
Place paper cupcake liners in a muffin tin. Preheat oven to 350 degrees.
Pour Pink Lemonade concentrate into a measuring cup, add enough water to total the amount on the box. Add to cake mix, add oil, eggs and lemon peel. Mix well.
Fill cupcake liners with approximately 1/3 cup cake batter and bake for about 15-18 minutes or until a toothpick inserted into cupcake, comes out clean.
Allow to cool, then frost and decorate. I used Buttercream Frosting and decorated some with white sugar pearls, pink sparkling sugar and drizzled some with melted chocolate.
Serve with a nice tall glass of cool Pink Lemonade.
Enjoy!
You can find Liz over at Hoosier Homemade usually surrounded by Cupcakes! I've been blogging a little over a year, I share lots of baked goods, yummy recipes including Budget Friendly Meals and decorating tips and tricks, all to help you "Make Your House a Home."
*************************************************************************

Note From Cindy: Liz is also one of the 11 other bloggers that will be participating in the Back To School Giveaway Bonzana with me from 8/9 – 8/13. We will be giving away 10 great back to school products so make sure to head over to our Back-to-School facebook page and "like" us so you get all the up to date information. And we have already announced 3 of the sponsors so check it out!