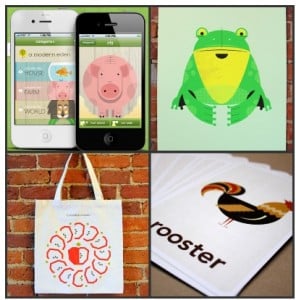 Now that you have entered giveaway #1 and giveaway #2, here is giveaway #3 from the Back to School Givaway Bonanza.
This is a Gift Pack from A Modern Eden valued at $106.The gift pack includes:
3 unique screen printed posters (lion, frog, peacock)
1 unique totes featuring print and embroidery (apple)
Button packs
Set of 20 animal flash cards
iPhone application titled "Speak, Piggy!" (available on the Apple App Store)
These screen printed posters make a beautiful addition to a playroom or classroom.
And A Modern Eden has graciously supplied a $106 Gift Pack to one LRWC lucky winner.
********************************************************************
Here are the Official  Giveaway Rules
Required Entry # 1: Place a comment below stating which you like the best.  You can check them out here.
Bonus Entry #2: You can earn a second entry by following LRWC on Facebook. If you are already following,  just leave a comment stating that.
Bonus Entry #3: You can earn a third entry by following A Modern Eden on Facebook. Leave a comment once you have "liked" A Modern Eden.
All entries must be left in the comments of this site only.  Facebook comments or emails will not count as a giveaway entry.
The giveaway ends at 11:59 pm EST on Friday 8/13 /10.  No entries will be counted after that time frame.
All entrants must be at least 18 years old and reside in the United States.
Winner will be notified within 48 hours of the giveaway ending via email.  Winner must respond with mailing address within 72 hours or another winner will be chosen.
**************************************************************************
Want to increase your chances of winning?
This giveaway is part of the Back to School Giveaway Bonanza that has 12 bloggers providing our readers several chances to win some wonderful prizes. You can easily increase your odds of winning by stopping by each of these sites and completing the required and/or bonus entry questions:
A big thank you to A Modern Eden for providing this great gift pack.  LRWC  was provided with a gift pack for review. The opinions contained in this post are that of LRWC and were not in any way influenced by a Modern Eden or an other party.  You can view the official terms of this giveaway on our Facebook page.