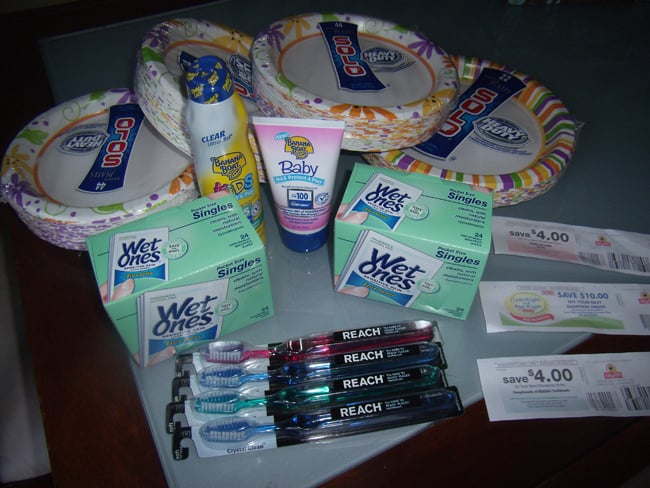 Reader Dawn said "I did great at ShopRite" and she was not kidding!  She did 3 catalina deals.  The Banana Boat, Solo & Reach.  Now she'll have to go back for the new V8 Catalina deal.
Thanks Cindy for all your great work! I am a mom of 2 boys, youngest is 3 months. By Couponing I am able to be a stay at home mom. I love my job!
Bought:
2 Banana Boats 5.99 each (sale price)
4 Solo Plates 1.99 each (sale price)
2 Wet One Wipes 1.24 each (sale price)
4 Reach Toothbrush 0.99 each (sale price)
Subtotal: $26.38
Coupons used:
(2) $1/1 Banana Boat
(4) .75/1 Solo Plates, Bowls, Cup (doubled)
(1) $1/2 Wet Ones
(2) $2/2 Reach
(1) $5 Unliever Catalina
(1) $8 P&G Catalina from 2 Box of Pampers
(2) .05 Canvas Bags
Deducted: $ 26.10
total paid: $1.21 with tax
Received $10 Banana Boat Catalina
Received $4.00 Reach Catalina
Received $4.00 Solo Catalina
Saved $47.50 and have $18 in Catalina's for my next trip!!!
Be sure to check out the ShopRite deals for this week.  And be sure to check the LRWC Coupon Database to find any of the coupons listed here.
If you have a shopping trip you want to share, find out how to enter it into the $100 Store Gift Card Giveaway.