Sara did some sweet deals at CVS.  Her total spent after coupons was under $3… and she got a $5 gift card on top of that!
Did amazing at CVS last night! I'm still on a bargain-shopping high from it!
Bought:
4 Fuze Drinks (on sale 5/5.00)
1 Honest Tea (on sale 5/5.00)
1 Revlon Lip Gloss (Clearance 75% off – 2.47)
1 Oral-B Pulsar Toothbrush (on sale 6.00)
1 Crest Pro-Health Rinse (on sale 4.50)
2 Excedrin Migrane 8-ct (on sale .99)
2 NYC Color Lip Gloss (BOGO 50% so 3.49 & 1.74)
4 NYC Nail Polishes (BOGO 50% so 2 for 1.99, 2 for .99)
1 Seattle's Best Iced Coffee (1.49)
Total Before Coupons – $34.48
Coupons Used:
$3 off $10 Cosmetics Purchase (Magic Coupon Machine)
$5 off $10 NYC Color Purchase
$2/1 Crest Pro-Health Rinse
$3/1 Oral-B Pulsar Brush
Free Seattle's Best Iced Coffee
(2) $1/2 Fuze Drinks
$1/1 Honest Tea
$14 in ECBs from last week
Total after coupons: $2.99
Received:
$2.50 ECB for Crest Rinse
$3 ECB for Oral-B Pulsar
$1.98 ECB for Excedrin
$2 ECB for Beverages
ANNNNNDDDDDD (drum roll please!!!) a coupon for a Free $5 Giftcard for "Meeting a Pharmacist"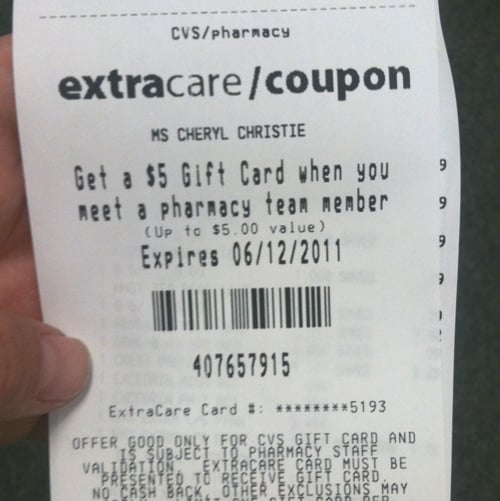 Turned around, walked to the pharmacy, handed her the coupon and she handed me a giftcard! Talk about sweet surprises! I was so excited and my hubby was speechless. I spent $2.99 and walked out with a $5 gift card.. they paid me to shop as far as he was concerned 🙂 I love your site. It makes it so easy to save. I have shortcuts to your different store pages saved as links on my iphone so I can look at your site real quick whenever I'm at a store 🙂
Be sure to check out the CVS deals for this week.
And be sure to check the LRWC Coupon Database to find any of the coupons listed here.
If you have a shopping trip you want to share, find out how to enter it into the $100 Store Gift Card Giveaway.