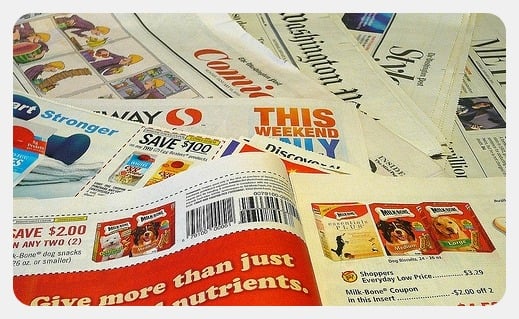 Which Newspapers have the Best Coupon Inserts?
This has always been a very popular question, but has always been very hard for me to answer! Because of the last giveaway I got a huge list of the best newspapers in certain areas and they are now compiled into one list! I hope this helps you all find the best newspapers for inserts in your area! They ranked from the most popular to the least popular:
North Jersey/New York Metro
Star Ledger
Newsday
New York Post
Bergen Record
Daily News
Daily Record
New Jersey Herald (NW Jersey)
The Jersey Journal
The Market Place
The Express Times
Central Jersey
Asbury Park Press
Jersey Journal
The Courier News
Trenton Times
Home News Tribune
Home News Journal
Vineland Daily Journal
South Jersey/Philadelphia
Philadelphia Inquirer
Courier Post
Atlantic City Press
The Intelligencer
Burlington County Times
Gloucester County Times
Atlantic City Press
Sunday DelcoTimes
Upstate New York
Poughkeepsie Journal
Journal News
Buffalo News
Times Herald Record
Pennsylvania
Pocono Record
Pittsburgh Post Gazette
Erie Times
Reading Eagle
Sunday News
Pittsburgh Tribune Review
The Daily Local
The Daily Times
Boston/Connecticut/Rhode Island
Hartford Courant
Boston Globe
CT Post
New Haven Register
Providence Journal
Boston Herald
Pawtucket Times
Maryland/Delaware/Virginia/Carolinas
Big Baltimore Sun
Delaware News Journal
Washington Post
Charlotte Observer
Richmond Times Dispatch
South Carolina State Newspaper
Gazette (MD)
Greenville News (NC)
The News Journal (DE)
Ohio/Illinois/Indiana/Colorado/Michigan/Minnesota
Chicago Tribute
Indianapolis Star
Springfield Post Dispatch (OH)
Daily Herald (IL)
Denver Post
Rocky Mountain News
Detroit Free Press
Star Tribune
Missouri/Mississippi/Kentucky
KC Star
Clarion Ledger
St. Louis Dispatch
Louisville KY Courier News
California/Alabama/Florida/Texas
LA Times
Palm Beach Post
Sacramento Bee
Houston Chronicle
Huntsville Times (AL)
Arizona Republic
The Dallas Morning News
San Francisco Chronicle
Florida Times Union
If you have a favorite Newspaper for inserts that is not listed above, let us know so we can add it to the list.