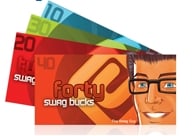 Mega Swagbucks Friday on Swagbucks!
Every Friday is Mega Swagbucks Day, which means better odds of winning BIG Swag Bucks denominations! Simply search naturally, and with a little luck, you'll be winning larger bills. Note there's no guarantee that you will win the elusive bigger bills, just a better chance of them hitting today!
For those new to Swagbucks or just heading over to sign up, you basically use their search engine to earn bucks in addition to numerous other ways of earning bucks, including Special Offers, Trusted Survey's, Games, and more.
Then Once you've collected enough of SwagBucks you can redeem them for great prizes like gift cards to some of your favorite stores like: Amazon.com, CVS, Travelocity.com, Chili's, Target, K-Mart, Walmart, or cash them in for PayPal gift cards and have cash deposited right into your account!
If your thinking of signing up for Swagbucks, they are currently running a special promotion that will net you an additional 70 Swagbucks to get your account started!
Through June 30th, enter the following code during registration: JUNETASTIC  for an additional 70 Swagbucks.  If your having trouble entering the code be sure there are no extra spaces before or after the code, and that's it entered the exact way listed. Note: This code is only for new sign ups.
Reminder: It's a new month at Swagbucks, so for any veterans that were waiting to cash in their bucks for gift cards, you can start doing so today! 
---
[adsense channel="1393640680″]