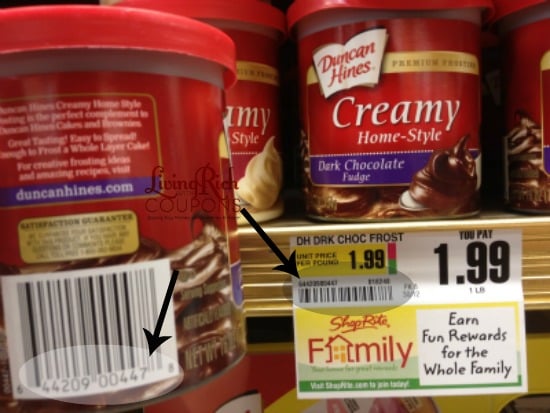 Extreme Couponing Tip: Check UPC Codes With Shelf Tags
This week's Extreme Couponing Tip is on checking UPC Codes.  I would have to say that 9 times out of 10 when someone says that a catalina deal did not work, it was most likely because a product was purchased that was not included in the deal.  Sometimes it's very easy to buy the wrong product.  Here are a few reasons:
Items placed on the shelf above the wrong shelf tag.  This could be a mistake by the store or even from customers moving around products.  When there is an empty place from a sale, customers tend to move around nearby products looking for sale products and may move different varieties or sizes into the empty space making it look like they belong there.
There are dozens and dozens of varieties.  Some of which may not be included in the deal.
A specific size is included in the deal and the brand has sizes that are similar.  Think Brawny paper towels last week when the regular roll 8 pack was not included in the deal yet the big roll 8 pack was.
Nothing is worse than getting home, reading over your receipt and realizing the item you bought rang up at full price or didn't trigger a catalina to print.  What's even worse is when we go to customer service only to find out the item purchased wasn't part of the sale.  This simple and quick check of the UPC Code will save you so much time and frustration later.
The last time this happened to me was when I was purchasing Goya Beans.  I accidentally picked up the "lower sodium" can of beans, which were not part of the sale.  I didn't realize it until customer service told me the lower sodium Goya Beans were excluded from the sale, which is why they rang up the price they did.  If I had just remembered to check my UPC Code on the can of beans to the UPC Code on the sale price sign, I would have saved myself a trip to customer service!
Tips to Remember:
Get in the habit of checking the product's UPC Code against the shelf tag UPC Code.
Be sure the shelf UPC Code you're checking has the price you're intending to pay.  Sometimes we can get caught up in making sure the UPC Codes match and forget to check the price listed.  Many times sales can exclude varieties of the same product, so remember to check the price too on the tag you are matching the UPC Codes to.
Typically, the last 5 digits of the UPC Code are the ones that need to be checked.
Do you have an idea for an Extreme Couponing tip you'd like to see addressed?  Leave your ideas in the comments!
---
[adsense channel="6898521481″]