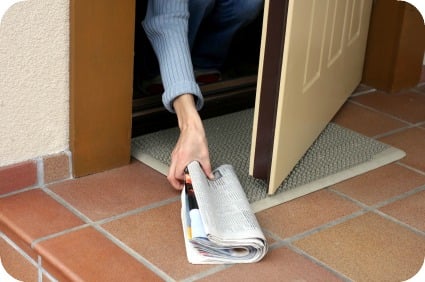 Extreme Couponing Tip: How to Save on Sunday Coupon Inserts
Are you paying too much for your coupon inserts?  I don't like to pay more than $1.00 per newspaper or coupon insert.  Coupons are designed to save us money, however with the sudden trend in using coupons in the past year or two, coupons have become very high demand.   Here are some tips on how you can save money each week on getting your coupon inserts.
Tips on Getting Coupon Inserts:
Call your local newspaper and ask for the best deal:  Often these local newspapers will run specials and promotional programs to get you to subscribe.  I currently get the Sunday Asbury Park Press delivered to my house for just $1.00 a week!
Try buying the Sunday newspaper at Dollar Stores:  Many Dollar Trees in my area sell the Sunday newspaper for $1.00!
Ask your friends, family members and co-workers for coupon inserts they don't use:  Don't let coupons go to waste!
Swap coupons with family and friends:  Don't have a baby? No pets in your house? Swap coupons you have no use for with those who need them.
Check your local library for coupon swap programs:  If one isn't set up yet consider organizing one for your community.
Use your store rewards to buy newspapers:  Consider using your ECBs at CVS, Register Rewards at Walgreens, UP Rewards at Rite Aid or even your Catalinas from grocery stores to pay for your weekly newspapers.
Look for online deals for newspapers that include coupon inserts:  I recently subscribed to a completely Free subscription to the Wall Street Journal, which has a Smart Source insert every Saturday.
Ask stores if they throw away newspapers that don't get purchased:  Are you friendly with an employee or manager of your favorite convenience store or gas station?  Ask what they do with leftover newspapers Sunday morning.  Maybe they'll give them to you for Free!
Remember when buying newspapers in store to always check the newspaper for the right amount of coupon inserts before you purchase the paper!
Now it's your turn!  What are your tips on saving money on coupon inserts?
Do you have an idea for an Extreme Couponing tip you'd like to see addressed?  Leave your ideas in the comments!
---
[adsense channel="6898521481″]