Extreme Couponing Tip: Take Advantage of Free Samples
This week's Extreme Couponing Tip is on taking advantage of Free Samples.  I used to think Free Samples were a hassle.  Most of the time, I didn't bother with a Free Sample.  I thought, is it worth my time to fill out a form just for a small sample? Well, over the years I've learned they are TOTALLY worth it!  I absolutely love the surprise in my mailbox so often from all the freebies I've signed up for.  It's the best when you forget you requested something and are surprised at the mailbox!
Here are just a few of the benefits to claiming Free Samples and various Freebies:
First and foremost, as I always say, it's FREE and we love FREE!
Many times the freebies are for full size products!  For example, I just received my Free full-size jar of Planter's Nutrition Energy Mix Peanut Butter as well as my completely Free Schick Hydro Silk Razor!  The peanut butter retails for $3.00 + and the Schick Hydro Silk Razor retails for around $10!  These are products I love and make great use of.  Can I just say that Planters Peanut Butter is beyond delicious!
Free Samples often come with money saving coupons!
You might come across a product you really love from a freebie that you might have not given a chance if it weren't free.
Freebies you might not use or have a need for can be donated to those who can make use of them!
Free samples are great and convenient to collect then use on a trip when you're traveling or to store in your purse!
::Toiletry Basket for Guests
Another great idea is to make a nice toiletry basket for your guests.  I recently picked up this cute basket at Marshalls for around $7.99 and filled it with samples to place in the bathroom.  You could certainly find less expensive baskets at dollar stores however, I liked the shape of this as it fit nicely on the back of the toilet.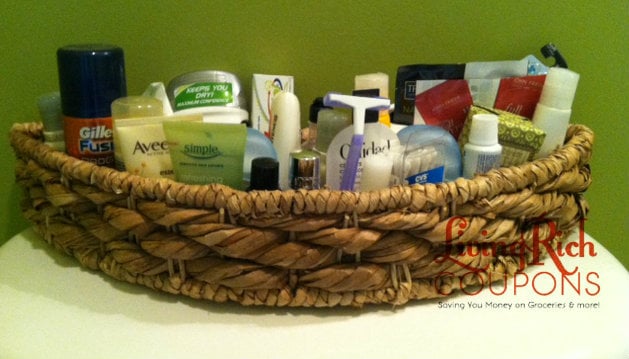 How have you used your Free Samples?
Do you have an idea for an Extreme Couponing tip you'd like to see addressed?  Leave your ideas in the comments!
---
[adsense channel="6898521481″]