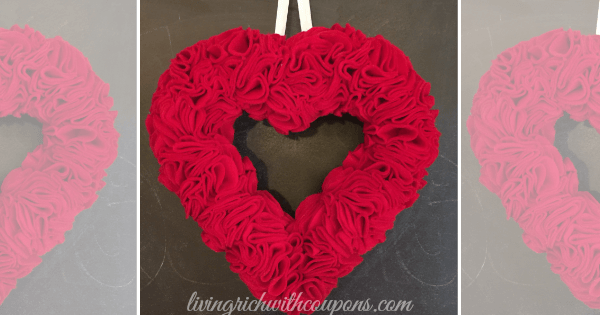 DIY Valentines Decorations –
Looking for something cute to make to dress up your house for Valentine's Day? I've got an easy DIY Valentine's Wreath that even the kids can help with.
If you have a Cricut Maker, the machine can cut the circles out for you.  If not, you can do the cutting while sitting watching TV. It is easy but does take some time to cut out.
We've got even more great Valentines Day Wreath Ideas.
Items you will need: 
Start by folding the felt in half. Cut the felt into 3 1/2″ strips. Then cut into squares. This will make it easier to cut the circles.
Cut the squares into circles that are 3″ in diameter. I made a template for myself out of cardboard. As I mentioned earlier, if you have a Cricut Maker, it will cut down the time by a lot. If not, put on a good movie and get cutting. You will need approximately 250 circles.

To attach the circles to the heart shaped foam wreath simple fold the circles in half and then in half again.
Take the circle that you just folded and put a pin through the very bottom point of the circle. Press the pin into the foam heart.
Continue adding more circles in the same manner pinning close together until it becomes nice and full. You don't need to put any felt on the back. Keep it empty so that it lays flat on the wall but fill it enough so that you don't see any of the white foam while it's hanging.
Add a ribbon to the back to hang
Watch the video to see exactly how it's done:
---
More DIY Projects You Might Like