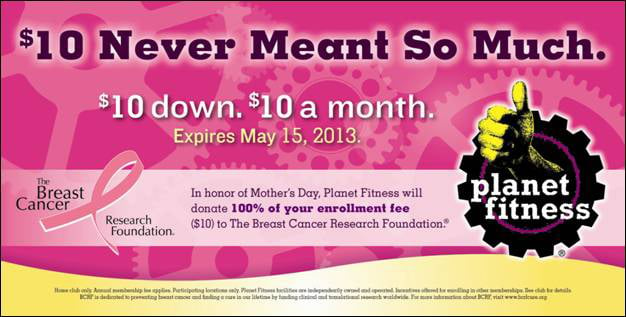 Planet Fitness Memberships
We have a cool giveaway starting today. Do you have a Planet Fitness gym near you? Planet Fitness is now the fastest-growing gym franchise in the US and has revolutionized the industry with a combination of extremely low prices and a unique, friendly, and hassle-free environment called the "Judgement Free Zone®".  Judgement Free Zone® philosophy means members can relax, get in shape and have fun! Planet Fitness, which currently has 650 locations, has grown to nearly 4 million members.
In honor of Mother's Day, Planet Fitness will be hosting its 4th annual promotion to raise money for Breast Cancer Research. People can join for $10 down and then $10 a month.  Participating Planet Fitness locations nationwide will donate the initial $10 enrollment fee to the Breast Cancer Research. In the past three years, Planet Fitness has donated more than $1 million to the Breast Cancer Research Foundation.
Getting and staying in shape is so important for us all to stay healthy. And you really can't beat the prices at Planet Fitness. It would make a great Mother's Day present for someone, for moms and friends with an added benefit of supporting an excellent cause.
Here on LRWC, we are giving away TWO Planet Fitness one-year memberships. But the fun news is that we are picking ONE winner. The winner of our giveaway gets to pick a friend, family member or who ever they would like to give the second membership. If you win, you and your buddy will each have a year membership!
Check out Planet Fitness' website to read more about their gyms, philosophy and to find a location near you!  And they have their own sweepstakes going for a free gym membership, where you can nominate "a mom as The Best on the Planet".  Be sure to check it out!
Here is how to Enter:
Required Entry:
Log in below (it may take a second to load) using your Facebook or email address.  Let us know how many times a week you try to exercise.
Additional Entries:
You can do none, 1 or all 4 of these.  The more points, the better your chance of winning.
For +1 point, become a Living Rich With Coupons fan on Facebook.  Click the green "I'm a fan" button.  If you are already a fan you will get this entry.
For another +1 point, become a Planet Fitness Fan on Facebook.  Click the green "I'm a fan" button.  If you are already a fan you will get this entry
For another +1 point, Tweet this giveaway by clicking on the Tweet icon.  A pop up box will appear so you can easily tweet your entry.  Then paste the url in the box.
Then, for a bonus 2 points, subscribe to the Living Rich With Coupons Daily Deals Mailing List.
Be sure to add ([email protected]) to your contacts or check your spam folders at the end of the giveaway.
A big thank you to Planet Fitness for providing this giveaway!