How to Make Pillows Out of Placemats
Decorate your house on the cheap with these awesome, no sew or easy sew Placemat Pillows.  Yep, these are made out of placemats.  Check out the video below  for the details!
If you can't view the video, you can view here: How to Make Pillows Out of Placemats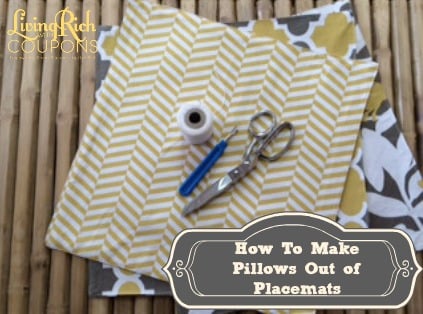 DIY Placemat Pillows
Items you need:
Scissors
Seam Ripper
Needle & Thread or Liquid Stitch
Double Sided Placemat (square or rectangle)
Polyfil
Directions:
Make a 5″ opening in the seam at what would be the bottom seam of the pillow
Stuff with polyfil making sure to shove it into the corners
Stitch seam closes by hand stitching, machine stitching or even glue it with Liquid Stitch
This is an easy and inexpensive project to spruce up your home.  Target and Homegoods have great selections of these placemats for a reasonable price.  And, this is an easy and inexpensive way to decorate for any holiday.  Plus, be sure to pick up clearance placemats after the holidays for even more savings.  Makes a great gift idea as well!