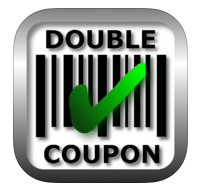 Double Coupon Checker App
Wow – what will they come up with next!  I should have thought of this super cool app!  We just learned about this awesome app called "Double Coupon Checker" from reader Julie.  Earlier this week some of you guys were discussing why the $2/1 Right Guard Coupon from the 3/16 Red Plum insert was only deducting $1.50 when it was scanned in the store.  Reader Julie scanned the coupon with her Double Coupon Checker app and realized there's actually 2 different bar codes on the coupon – a short bar code and a long bar code.  One of the bar codes (the short one) is coded wrong, so if that one is scanned, it's only taking $1.50 off for the coupon, whereas the long bar code is taking off $2.00 when scanned.
If we ever have issues like this in the future with a coupon, this app will be a great resource for us! This app is more commonly used to tell if a coupon you have really does double or not.  Often coupons state "do not double" on them however they actually are coded so that they will still double automatically and only won't double if the cashier stops it.  This awesome app lets us know if the coupon will double or not when scanned!  Super cool and great especially for blinkie coupons we pick up in the store that say "Do Not Double" on them.
Here is more information on this app:
Use "Double Coupon Checker" to quickly check whether the coupons you have can be doubled. Simply scan your coupons from Sunday newspaper, "Catalina" print-out, or grocery store on your iPhone, iPad, or iPod Touch (auto-focus capable device required).  Note: What is printed on the coupon may NOT match what is encoded in the coupon barcode. If there are any discrepancy, the writing on the physical coupon prevails.

iPhone 3GS/4/4S/5/5S/5C, iPad 3/4/mini, and latest iPod Touch (5th generation, released Oct 2012) are supported.  iPhone 3, iPad 1/2, and all previous generations of iPod Touch do not have auto-focus camera and are NOT supported.
Download for iTunes:  Double Coupon Checker App
Download for Android: Double Coupon Checker App
Thanks Julie!