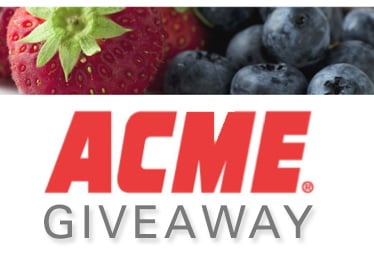 Acme Gift Card Giveaway
We have a great giveaway starting today!  Have you shopped at Acme recently?
Did you know that Acme is now owned by a new company?  They are determined to bring Acme back up on top and better than ever!  Their new priorities are to offer more competitive pricing, better customer service, higher quality products and cleaner stores.  If you haven't shopped at Acme in a while, its time to go back and check out the new visions for the stores.  As Acme puts it "Acme's Getting Better Every Day".
And what also makes this so sweet??  Its our giveaway!!  We have one $250 Acme gift card to give away to one of our lucky readers!!  Whoo hoo!!  All you have to do to enter is to tell us about a positive experience you've had at Acme: whether its about a friendly employee, a cashier going above and beyond, something tasty you may have picked up at the bakery, etc.  Let us know!

Here is how to Enter:
Required Entry:
Log in below (it may take a second to load) using your Facebook or email address.  And tell us about a positive experience that you've had at Acme.
Additional Entries:
You can do none, 1 or all of these.  The more points, the better your chance of winning.
For +1 point, become a Living Rich With Coupons fan on Facebook.  Click the green "I'm a fan" button.  If you are already a fan you will get this entry.
For another +1 point, Tweet this giveaway by clicking on the Tweet icon.  A pop up box will appear so you can easily tweet your entry.  Then paste the url in the box.
Then, for a bonus 2 points, subscribe to the Living Rich With Coupons Daily Deals Mailing List.
Be sure to add ([email protected]) to your contacts or check your spam folders at the end of the giveaway.
 Notice: This giveaway is sponsored by Acme.  LRWC has received information to help promote Acme as part of this giveaway.  LRWC has been compensated to put together this giveaway.  All opinions are 100% our own.