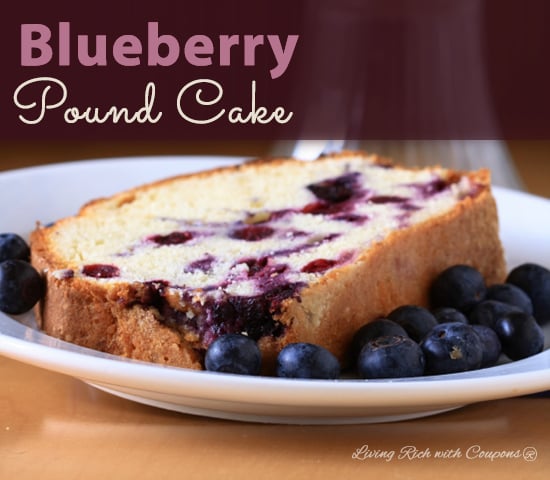 Blueberry Pound Cake
By: Gigi Howe
I love this time of year when we start seeing good berries in the stores.  I love berries, pretty much every kind.  Blueberries might be my favorite if I had to pick one, but its really a tough choice for me because I like them all.  Just this week, I planted some strawberry, raspberry and blackberry plants in my garden.  I am going to pick up some blueberry plants too.  Love them!  I'm hoping that the local wildlife won't like them as much as me.  😉
Anyway, I got a little off track there!  I have a few REALLY good blueberry recipes.  I decided to post one today and maybe I will post another one in a few weeks. This recipe was my mom's.  It was always a hit.  I don't know if it is my favorite blueberry cake, but its in the top two.  This cake is moist and tasty.  Everyone I have made it for has loved it.  I hope you do too!
This recipe includes an icing.  I never ice it.  Its funny because until I looked at the recipe again today, I had totally forgotten about the frosting.  So I will say that's optional.
Blueberry Pound Cake

Ingredients:
– 3 cups flour
– 1 1/2 teaspoon baking powder
– 3/4 teaspoon baking soda
– 1 teaspoon salt
– 1/4 cup brown sugar packed
– 1 tablespoon flour
– 1/2 teaspoon cinnamon
– 3/4 cup butter or margarine softened
– 1 1/2 cups sugar
– 1 tablespoon vanilla extract
– 4 eggs
– 1 cup sour cream or plain yogurt
– 2 cups blueberries
Optional icing:
– 1 cup confectioner sugar
– 1-2 tablespoon milk
Directions:
1. Lightly grease and flour a 10″ tube pan.  Preheat oven to 350 F.
2. Sift 3 cups flour with baking powder, baking soda and salt.  Set aside.
3. In small bowl combine brown sugar, with tablespoon of flour and cinnamon and mix well.
4. In large bowl of electric mixer beat butter with granulated sugar and vanilla until fluffy (medium speed).  Add eggs one at a time, beating after each egg.
5. At low speed beat in flour mixture in 3 additions alternating with sour cream or yogurt (which will have 2 additions).
6. Turn 1/3 batter into pan spreading evenly; sprinkle with 1/2 of the berries and 1/2 of brown sugar mixture.  Repeat layering of remaining batter and berries and sugar mixture.
7. Bake 60 mins. or until cake tester is clean.  Cool in pan on rack for 20 mins.  Gently remove from pan.  Mix confectioner sugar and milk until smooth.  Spread on cake.
Enjoy!
Printable Recipe:
Blueberry Pound Cake Recipe
---