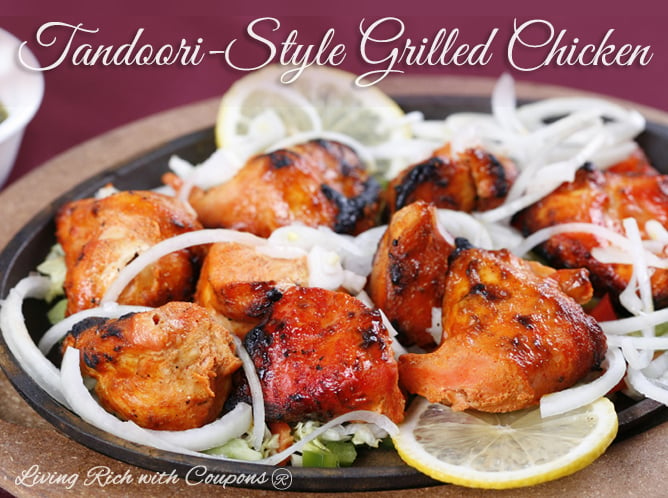 Tandoori-Style Grilled Chicken

By: Gigi Howe
Now don't get me wrong, I lived in NJ up until 10 months ago, maybe I got spoiled but there was pretty much every type of restaurant nearby.  I was lucky and got to try many different types of foods.  Now, I'm in Ohio.  No offense but where I am right now, is not exactly international restaurant row!  😉  But that's okay!  I was able to sample many times of foods in NJ and now I can try to bring a my own version of them here to my home in Ohio.
One type of cooking that I've always liked is Indian.  I love the combination of spices.  I found this recipe for grilling Tandoori chicken, which is not the traditional way to make Tandoori chicken but it is good.  I can't say it tastes 100% authentic but its a good substitute for this relocated NJ gal!  😉
This recipe is made on the grill. You marinate the chicken prior to grilling. Try it and see how you like it!
Tandoori-Style Grilled Chicken

Ingredients:
–  3 lbs chicken
–  1 pint plain yogurt
–  1 tablespoon lemon or lime juice
–  1 tablespoon grated ginger
–  4 cloves garlic, minced
–  1 tablespoon paprika
–  1 teaspoon ground cumin
–  1 teaspoon ground turmeric
–  1/4 teaspoon salt
–  1/2 teaspoon cayenne pepper or 1 teaspoon Tabasco sauce (optional)
–  1 onion thinly sliced
–  1 lemon or lime thinly sliced
Directions:
1.  Remove skin from chicken and randomly poke chicken with the tip of a sharp knife. Place chicken in resealable bag or bowl.
2.  Combine all ingredients except the onion and lemon slices and mix well. Pour mixture over chicken. Seal bag or cover bowl and refrigerate for 1 hour or overnight.
3.  Place chicken on heated grill. Reserve marinade and use to baste the chicken while its cooking. Grill chicken until no longer pink.
4.  Serve chicken on platter with sliced onions and lemon. Discard unused marinade.
Enjoy!
Printable Recipe:

Image Credit: SUKHJIT VERMA on Getty Images