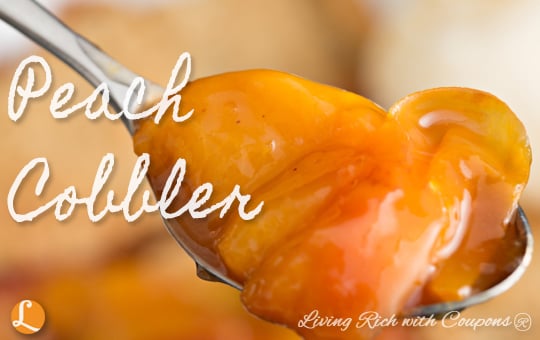 Peach Cobbler

By: Gigi Howe
I should call this "Mike's Peach Cobbler".  Its my guy's recipe 🙂  He doesn't cook much but when he does, you know its going to be good.  This recipe is really pretty easy.  The hardest part is peeling the peaches.  Mike has made this for company.. friends and relatives.  When he tells everyone that he has made it they don't believe him.  I don't know if that's a reflection on him or on the cobbler!!
You use ready-made pie crust for this recipe.  Mike puts a bottom layer of crust down first, then adds the peaches, then sprinkles the other ingredients and last, another layer of pie crust on top.  Personally, I am not a big fan of pie crust.  If I were to make this recipe I think I would only put on the top layer… don't tell him that.  I figure if he wants to make a peach cobbler, he can make it any way he would like!!!!  😉
Ladies, challenge your hubby to see if he can make this peach cobbler too!!!  🙂
Peach Cobbler

Ingredients:
–  Ready-made Pie Crust
–  Peaches – about 2 – 3 lbs, peeled and sliced
–  3 – 4 tablespoons flour
–  1/2 – 2/3 cup sugar
–  2 tablespoons butter
Directions:
1. Put 1 pie crust sheet at the bottom of a baking dish.  We usually use a 9×9 pan.  The pie crust may not fit exactly, work it in the best you can.
2. Place sliced peaches on top of the bottom pie crust.  Sprinkle flour and sugar on top of peaches.  Dot with butter.
3.  Put 2nd pie crust on top.  Do your best to fold edges over.  Cut off excess crust if there is any.  Poke a few air holes for venting in top crust.
4. Bake for 1 hour at 350.
Enjoy!!
Printable Recipe:
Pin it: