This is one of my favorite times of year! I love autumn…the colors of the trees, the crispness in the air, and the decor. And, Thanksgiving happens to be one of my favorites! It's a holiday that is all about bounty, gratitude, and enjoying great food with loved ones.
While you do want to have some decorations that add a festive mood to your table and home, there is no reason to go overboard with spending a lot of money and over-decorating. A frugal reminder is to be grateful for all you have and to keep your Thanksgiving simple.
Take a look at these 10 frugal Thanksgiving Centerpieces that are creative and fun for you to share this thankful season.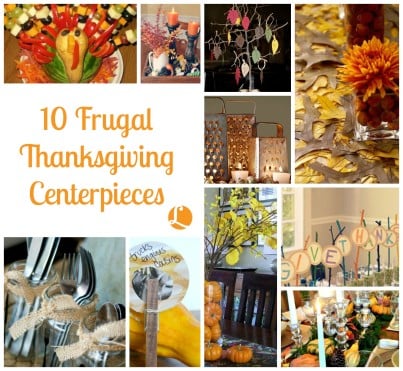 Fun and Healthy Edible Turkey: by Top Inspired: What a fun way to present a meal during Thanksgiving. Traditionally, Thanksgiving meals are elaborate, but you might fool your guests and your children into nibbling on some fruits and veggies before the main course if they are presented in an interesting and appetizing way, for example in the shape of a turkey.
Thankful Decorated Trays: by Whats ur Home Story: This is so simple and elegant. Finding things around your house that you might of bought a while back could be put together in a nice tray display. It could also be a great talking piece at dinner time when guests ask, "Where did you get your centerpiece?"
Gratitude Tree: by Lets Get Together: This is a great activity for showing younger children the power of choosing gratitude in changing our negative attitudes. Super simple with a great messages!
Leaves and flowers: by thekitchn: Simple is beautiful! Pick up some autumn leaves and lay out some candles as your centerpiece. It will be a gilded craft explosion of fun!
Box Grater Luminaries: by Country Living: Wow, how creative! Create a moody ambiance on a sideboard with this fun flickering display.
Frugal and Functional: by How Does She: Simple and creative for under a few dollars, sounds easy peasy to me! What a great way to arrange your forks, spoons, and knives.
Thanksgiving crafts with the kids: by Handmade Kids Art: This is another great activity for your children. Mix pumpkins and gourds with thankful reflections. Your kids will be proud that they made something to show everyone what they are thankful for.
Thankful Tree: by Hi Sugarplum!: Similar to the gratitude tree, but just displayed differently. Love the mini pumpkins in the vase idea too.
"Give Thanks:" by Parents: This centerpiece is so easy that kids can make it all by themselves! Love the message that it displays for everyone to see.
Elegant Tablescape: by Premeditated Leftovers: You can make something look elegant without breaking the bank. This rustic arrangement is a perfect classic look for Thanksgiving.