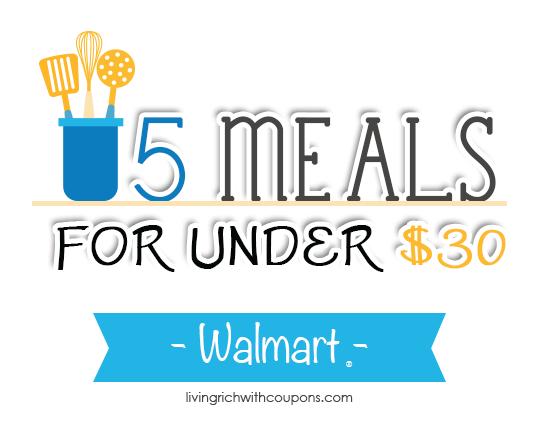 5 Meals for Under $30 at Walmart
What's for dinner this week? How many times a week do you ask yourself that question! Check out our menu and recipes for this week. We are basing our menu on the great deals that you can pick up this week at Walmart. Everything can be purchased at Walmart and your cost will be less than $30! Our recipes are geared for a family of four, unless otherwise noted. That's an average of $6 per meal or $1.50 per serving. How awesome is that!
You might find that you already have some of the items listed on the shopping list in your stock pile so your out of pocket cost will be even less! Just so you know, some prices may vary at your local Walmart.
Check out our menu and recipes. Let us know how this works for you and if you have your own recipes for this week's deals!
Note: These deals are valid through 1/24/15

Spaghetti and Meatballs
with Tossed Salad
Total Cost: approximately $5.05

Ingredients you will need for this recipe:
Spaghetti – 6 oz.
Pasta sauce – 1 jar
Armour Italian Style Meatballs
Parmesan cheese – 1/2 cup
Here's your shopping list:


Crock Pot Chicken and White Bean Stew
with Baby Carrots
Total Cost: approximately $6.01

Ingredients you will need for this recipe:
Boneless chicken breast – 1lb
Ground cumin – 1 teaspoon
Olive oil – 1 tablespoon
Alfredo sauce – 1 jar
Great Northern or white kidney beans (cannellini beans) – 1 can
Chicken broth – 1/2 cup
Red onion – 1/4 cup chopped
Diced green chile peppers – 1/2 of a 4 oz can
Garlic – 2 cloves
Shredded sharp cheddar cheese or Monterey Jack cheese (1 ounce) (optional)
Fresh parsley leaves (optional)
The original recipe serves 8 so we cut the ingredients in half.
Here's your shopping list:

Turkey Tacos
with Lettuce, Tomatoes and Cheese
Total Cost: approximately $5.96   *serves 6*

Ingredients you will need for this recipe:
Vegetable oil – 1 tablespoon
Ground turkey – 1 lb.
Chili powder – 2 teaspoons
Paprika – 1 1/2 teaspoons
Cumin – 1/2 teaspoon
Oregano – 1/2 teaspoon
Cayenne pepper – pinch
Taco Shells or Soft tortillas
Here's your shopping list:


Pepperoni Pizza Bake
with Frozen Vegetables
Total Cost: approximately $5.68  *serves 6*

Ingredients you will need for this recipe:
Pillsbury Grands! Homestyle refrigerated original biscuits – 16.3 oz can
Pizza sauce – 8 oz
Shredded mozzarella cheese – 8 oz
Pepperoni – approximately 16 slices
Here's your shopping list:


Slow Cooker Rosemary-Garlic Chicken Leg Quarters
with Tossed Salad and Baked Potatoes
Total Cost: approximately $5.06

Ingredients you will need for this recipe:
Celery – 1/2 cup
Chicken leg quarters – 4
Dried rosemary – 3 tablespoons
Paprika – 2 teaspoons
Garlic – 1 tablespoon chopped
Olive oil – 3 tablespoons
Chicken broth – 1/2 cup
Lemon juice – 2 tablespoons
Here's your shopping list: