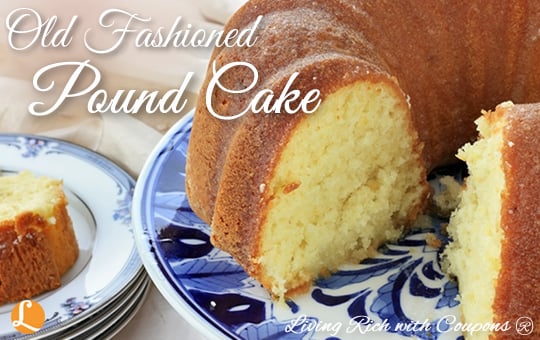 Old Fashioned Pound Cake
By: Gigi Howe
When Cindy told me that today is National Pound Cake Day, I immediately thought of this recipe.  I can't tell you how old this recipe is, but for some reason when I was a kid, I used to make it.. a lot.  I think I was about 9 or 10 at the time and a few people actually paid me to make them a cake.  Maybe they were being kind, but I think its really the recipe.  This recipe is a little complicated but this will probably be the best pound cake you've ever tasted (and remember, I did made when I was a kid so it can't be all that difficult).
Old Fashioned Pound Cake
Ingredients:
– 8 eggs (at room temperature – let stand for 1 hour before using), separated
– 2 1/4 cups sifted flour
– 1/4 teaspoon baking soda
– 2 1/4 cups sugar
– 1 1/2 cups butter, softened
– 2 tablespoons lemon juice
– 2 1/4 teaspoons vanilla extract
– 1/8 teaspoon salt
– 1 1/2 teaspoons cream of tartar
Directions:
1.  Butter and flour a bundt cake pan.  Preheat oven to 325.
2.  Sift together flour, baking soda and 1 1/4 cups of sugar.
3.  In large bowl blend butter with flour mixture.  Add lemon juice and vanilla.  Beat in egg yolks one at at time, just until yolks are blended.
4.  In another large bowl, with mixer at high speed, beat egg whites until frothy.  Add salt, then gradually add 1 cup of sugar and cream of tartar.  Continue beating until soft peaks form.
5. Gently fold egg whites into the flour mixture, then turn into prepared bundt pan.  Using a spatula, gently cut through the cake batter 1 or 2 times.
6. Bake cake 1 1/2 hours, or until cake tester comes out clean.  Do not open the oven door during the first hour of cooking.
7.  Once the tester comes out clean, turn off the oven and let the cake stay in the oven for 15 more mins.  Then remove to a wire cake rake and let cook for 15 mins.
8.  Remove cake from the pan and let cool on rack.
Enjoy!!
Printable Recipe: