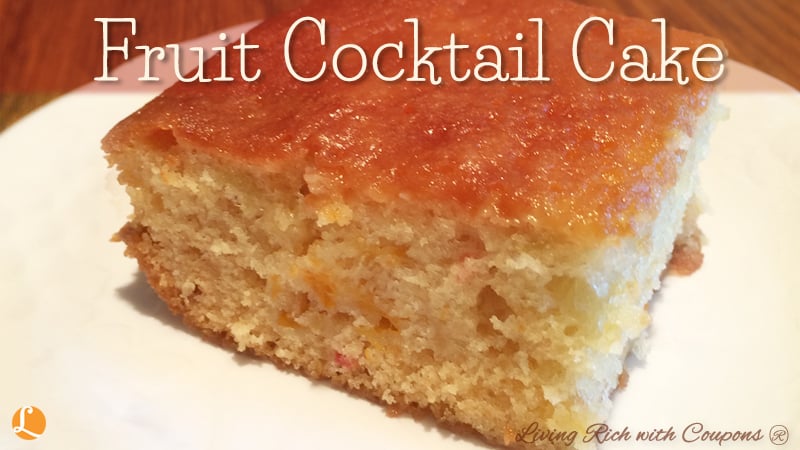 Fruit Cocktail Cake Recipe
By: Gigi Howe
I lived in NJ my whole life up until a year and a half ago.  Now I am in the Mid-West!  You just never know where life is going to bring you!  Things are different here where I live.  Its as flat as a pancake.  If someone honks their horn at you, its because they are saying hi.  And some of the food is a little different.  I haven't found a good bagel here yet, but I have been trying some different recipes.  And I am sharing one of those recipes today.
This cake is unique. My honey made it for me.  It was his grandmother's recipe.  It is pretty quick to prepare.  And yes, it does have a can of fruit cocktail in it.  Once the cake is finished baking, you prepare the topping by boiling butter or margarine, sugar and evaporated milk. You pour that over the cake, let it cool and then enjoy.  Like I said, this cake is unique and delicious too! You can add coconut and nuts to the topping if you like.  We kept our cake plain and I thought it was great.  A definite tasty Mid-West cake!
Fruit Cocktail Cake
Ingredients:
– 1 1/2 cups sugar
– 2 eggs
– 1/2 cup oil
– 2 cups flour
– 2 teaspoons baking powder
– 1/2 teaspoon salt
– 1/2 teaspoon baking soda
– 1 can fruit cocktail in juice – 14 – 15 oz. (don't drain)
Topping
– 1 stick butter or margarine
– 3/4 cup sugar
– 1/2 cup evaporated milk
– 1 teaspoon vanilla
– 1 cup coconut (optional)
– 1 cup chopped nuts (optional)
Directions:
1.  Preheat oven to 350. Beat sugar, oil and eggs. Add flour, salt, baking powder and baking soda. Mix well. Add fruit cocktail, mix and pour in a 9×13 greased baking dish.  Bake for 45 – 50 minutes until cake tester comes out clean.
2. Prepare topping – put butter, sugar and evaporated milk saucepan.  Boil together for 1 minute.  Remove from heat; add vanilla.  Add coconut and nuts if desired. Pour over caked while still warm.
Enjoy!!
Printable Recipe:

---