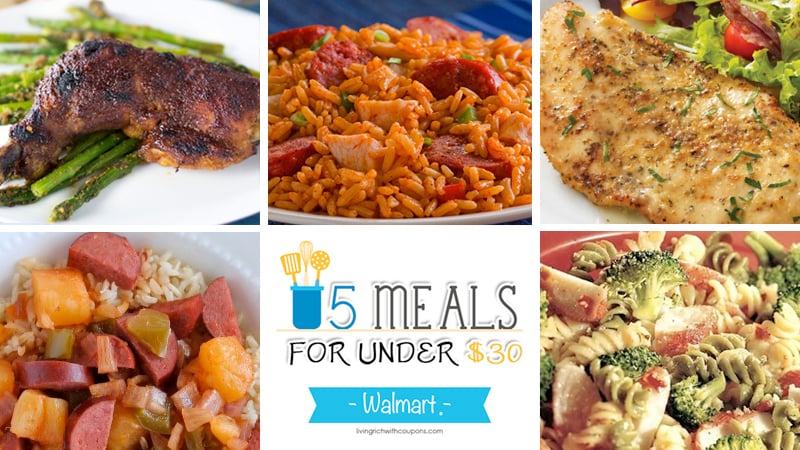 5 Meals for Under $30 at Walmart
You might find that you already have some of the items listed on the shopping list in your stock pile so your out of pocket cost will be even less! Just so you know, some prices may vary at your local Walmart.
Check out our menu and recipes. Let us know how this works for you and if you have your own recipes for this week's deals!
Note: These deals are valid through 6/27/15


Carnival Jambalaya
with Tossed Salad
Total Cost: approximately $4.66


Ingredients you will need for this recipe:
Zatarain's Jambalaya Mix
Boneless chicken breasts cubed – 1/2 lb.
Smoked sausage – 1/2 lb.
We have smoked turkey sausage on our list. You can substitute another type of smoked sausage if you prefer.
Here's your shopping list:



Crock Pot "BBQ" Chicken
with Potato Salad, Kale and Baby Carrots
Total Cost: approximately $5.56


Ingredients you will need for this recipe:
Chicken leg quarters – 4
Natural liquid smoke – 1/2 teaspoon (optional)
Spice Rub:
Onion powder – 2 teaspoons
Garlic powder – 2 teaspoons
Sugar – 2 teaspoons
Cumin – 2 teaspoons
Paprika – 2 teaspoons
Dried mustard – 1 teaspoon
Chipotle – 1/4 teaspoon
Turmeric – 1/4 teaspoon (optional)
BBQ Sauce:
Tomato paste – 1 tablespoon
Wine vinegar – 1 tablespoon
Worcestershire sauce – 1/2 teaspoon
Molasses – 1-2 teaspoons
Honey – 2 teaspoons
Here's your shopping list:



Neptune Pasta Salad
with Sliced Tomatoes and Baby Carrots
Total Cost: approximately $5.61


Ingredients you will need for this recipe:
Suddenly Salad Caesar pasta salad mix
Vegetable oil – 3 tablespoons
Imitation crabmeat – 8 oz.
Broccoli florets – 1 1/2 cups
Here's your shopping list:



Garlic and Herb Lemon Chicken
with Corn on the Cob and Tossed Salad
Total Cost: approximately $5.56


Ingredients you will need for this recipe:
Flour – 1/4 cup
McCormick Perfect Pinch Salt Free Garlic & Herb Seasoning – 1 tablespoon
Boneless chicken breasts – 1 lb.
Oil – 2 tablespoons
Reduced sodium chicken broth – 1 cup
Lemon juice – 1 tablespoon
Fresh parsley – 1 tablespoon chopped
Here's your shopping list:



Slow Cooker Sweet and Sour Smoked Sausage
with Rice and Bok Choy
Total Cost: approximately $5.22


Ingredients you will need for this recipe:
Sweet & Sour Sauce – 10 oz.
Pineapple chunks – 20 oz can
Red onion – 1 diced
Green pepper – 1 diced
Kielbasa/Smoked Sausage Link – 14 oz
Here's your shopping list: