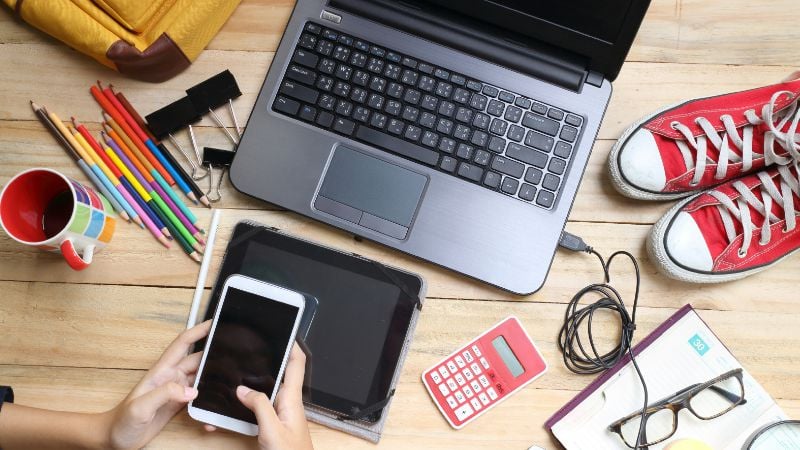 Top Money Wasters Back-to-School Edition: Going Off to College
Even though retailers have been pushing it since before the previous school year ended, August marks the "official" start of the back-to-school season for many shoppers and savers alike. And while the stereotypical supplies and clothing needed by the K-12 crowd is fraught with waste, many astute parents learn over the years how to save a bit each season through experience alone.
All of this changes, however, when your child goes off to college. From the whimsy of a dorm room, a blank slate of sort when it comes to decoration, to the allure of ever-advancing technology that every student has to have for success, I dare say it's possible to double your tuition costs on college "supplies" alone, especially freshman year. That is why avoiding waste and following smart shopping tips specific to college is a must before packing for the dorms.
Top Money Wasters for College Back-to-School Shopping
Like typical K-12 shopping, there is a lot of wasteful spending in the back-to-college niche that savvy shoppers can avoid without forcing their students to sacrifice. Here are four of the top college-specific money wasters to look out for as you hit to stores:
1. Printers
Buying a printer for your dorm may seem like a smart move. It allows students to easily print and return assignments regardless of the time of day. However, even though printers are relatively cheap during the back-to-school season, printer ink is not. Now, it's been over a decade since I left college, but I didn't need a dorm room printer then and I don't think you need one now. There are two reasons for this. First, most colleges have large, extensive computer labs with late hours. Plus, if you just need to print, many monitors will allow you to jump the line in order to do it. Second, many professors these days take their submissions electronically, either via email or am in-house system like Blackboard. No printing necessary.
2. Speakers
The stereotypical image of the head banging loud music penetrating dorm room walls may still hold true at many campuses, but, more and more, students prefer the solitude of listening to music or watching TV through headphones. Not only do speakers need to compete for attention, the growing trend in tablet and computer-based viewing via streaming services like Netflix and Amazon Prime makes buying a good pair of noise-cancelling headphones a smarter investment for most students.
3. Mini Refrigerators
College dining plans run the gamut from all-hours and all-inclusive to pay-as-you-go options for a more discerning palate. However, the convenience of having your own food in your room is hard to deny. However, many college students go out and pay for mini refrigerators that they don't need or really use. Before you spend any money on this, check to see if the college provides them. Alternately, many campuses have community fridges in a common room that you can use. Finally, for those with a roommate, consider splitting the cost.
4. Textbooks
Like school supplies for the K-12 set, textbooks are a must. They are also one of the most expensive line items on a college budget. That's why it's not too wise to purchase all your books before going to the first class or two of the semester. Many professors may change their textbook requirements, list books because the department requires them to, or offer students online or library-based alternatives that can save a lot of money. And if they don't offer up that information, don't be afraid to ask. Finally, if all else fails, online book buying and borrowing sites like BookRenter, Chegg, and TextBooks.com, offer alternatives to the typical college bookstore.
More General Back-to-School Savings Tips
In addition to avoiding money-wasting college purchases, there are some specific shopping techniques parents of college-age students might want to consider for other typical college purchases that will save everyone money.
First, for items to-be-purchased such as books or back-to-school clothes, consider offering your student a gift cards which allows him or her to shop once at school and once the sales get better or to buy clothing more seasonally appropriate for their location. Gift card websites offer discounts of 5-10% that can save additional money off the bottom line as do gift card catalina deals, which you can roll over into savings on your monthly grocery budget.
It is also important to educate your student about rebates and to walk them through the process on their own purchases, as well as making sure you get everything you need (such as UPC codes) from their packages before they leave.
Finally, students with a new roommate or even an old one are smart to wait on purchasing dorm décor until they return to campus. This way, they can split shared items like window coverings or rugs as well as wait out for clearance sales later on in the season.
Gearing Up for Back-to-School
Sending a child away to college is always tough emotionally, so it makes sense to help yourself by easing the burden financially. Whether you need to save to actually afford that private school tuition or want the extra cash to treat yourself to an "empty nest" treat is of no consequence. Maximizing your money when it comes to college back-to-school shopping is all the same.
What tips and tricks can you add?