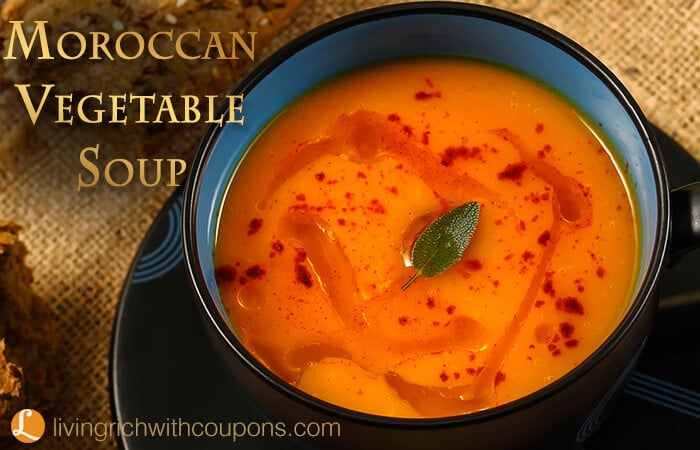 Moroccan Vegetable Soup
Our LRWC post on 10 Unique Pumpkin Recipes jogged my brain for a recipe that I have made which includes pumpkin (you can substitute butternut squash if you'd like).  This soup also has carrots, onion and parsnips.  I love parsnips, if you haven't tried them, you should… which reminds me of another recipe! 😉
Anyway today's recipe is easy to make, delicious and healthy.  I don't think you can beat that.  You cook all the vegetables and then add vegetable or chicken stock.  Once the vegetables are soft, puree it all together.  Before serving, add some lemon juice to the soup and prepare a garnish of olive oil, garlic and parsley, then sprinkle the soup with paprika and you're set.
Moroccan Vegetable Soup
Ingredients:
2 tablespoons olive oil
1 large onion, chopped
8 oz. carrots, cut into 1 inch pieces
8 oz. parsnips, cut into 1 inch pieces
8 oz. pumpkin, chunked
4 cups vegetable or chicken broth
fresh lemon juice to taste
salt and  pepper to taste
Garnish:
1 tablespoon olive oil
1 garlic clove, minced
1/4 cup chopped parsley
paprika to taste
Directions:
1.  Saute onion in oil until softened.  Add carrots and parsnips, cover and cook for 5 mins over low heat.  Add in pumpkin, cover pan and cook for 5 more mins.
2. Add broth, cover and simmer for 40 – 45 mins.
3.  Puree the soup in blender or food processor.   Add more broth or water if the soup seems too thick.  Return to pot and stir in lemon juice to taste.
4.  Garnish – heat olive oil in small pan; saute garlic and parsley for 1 – 2 mins.  Add in paprika and stir well.
5.  Pour soup into bowls and top with garnish.
Enjoy!!
Printable Recipe:

---