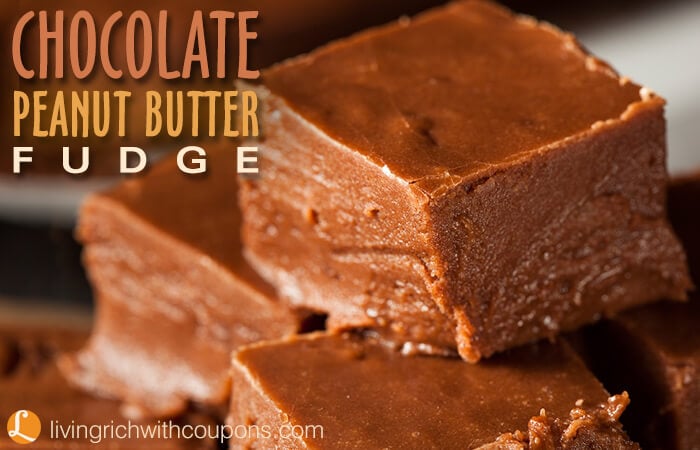 Chocolate Peanut Butter Fudge
This recipe is from someone very near and dear to me, my step daughter, Miranda. 🙂   She is a great cook and especially makes way too delicious desserts.  We've been enjoying this recipe for a few years now.  I like to make it around the holidays.  I made a batch last weekend… there is barely any left!
This fudge is easy to make.  It's is very smooth and creamy, oh and did I mention it's scrumptious?!  Put the sugar, butter and evaporated milk in a large pot, let it come to a boil and then have it cook for 8 minutes.  Stir the mixture for the whole 8 minutes because you don't want it to stick to the pan and ruin the fudge.  If the fudge cooks for too long it will be crumbly, if it cooks for too short of a time it will be gooey.  Eight minutes is the key!
Chocolate Peanut Butter Fudge Recipe
1. Combine sugar, butter and evaporated in large saucepan.  Let mixture come to a boil, lower heat and stir on very slow boil for 8 minutes.  Remove from heat.
2. Immediately mix in chocolate chips, peanut butter and mini marshmallows.  Stir until well combined.
3. Pour into greased 9 x 13 pan and let cool.
Enjoy!!
Printable Recipe:
Extra Extra!
No Bake Nutella Peanut Butter Bar: