Blueberry Pie Recipe
I know I have said it before and I will say it again, I love this time of year with all of the wonderful fruits and berries that are available!  Blueberries are one of my favorites and today I will post a recipe for blueberry pie.  Its not difficult at all to make, especially if you use a ready-made piecrust.  If you want to go 100% homemade, I am also sharing my go-to recipe for crust.  Its not tricky to prepare, although I have to say the directions sound complicated, but they are not.  Its flaky and not as heavy as the ready-made crusts.  Either way, this pie is full of blueberries and flavor!
If you want some other blueberry recipes, we have posted a few over the years.  I can say firsthand they are all super!
Blueberry Pound Cake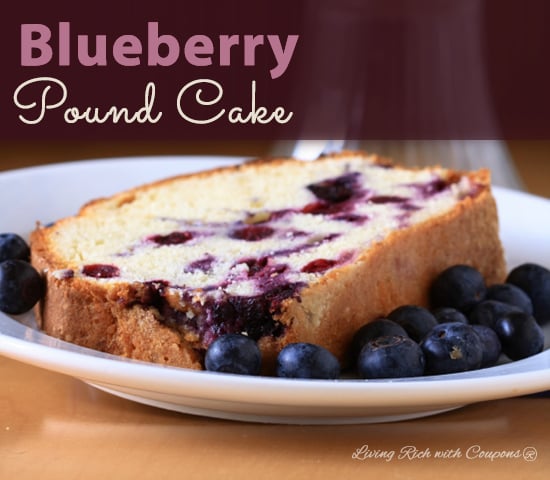 Crumb-Topped Blueberry Cake

And now for today's recipe:
Blueberry Pie
Ingredients:
Pie crust – top and bottom
2/3 to 3/4 cup sugar
2 tablespoons flour
1/2 teaspoon grated lemon rind
1 to 2 teaspoons lemon juice
1/2 teaspoon cinnamon
1/8 teaspoon salt
4 cups fresh blueberries
1 tablespoon butter or margarine
Directions:
1. Preheat oven to 425.  Line a 9 inch pie plate with bottom crust.
2. Combine all ingredients except berries and butter.  Arrange half of berries in lined pie plate; sprinkle with half of the sugar mixture; repeat.  Dot filling with butter.
3. Place top crust on filing and adjust (see pie crust recipe below – step 4).
4. Bake 40 to 50 minutes or until filling is tender and crust is nicely browned.
Flaky Piecrust Recipe
Ingredients:
2 1/3 cups all purpose flour
1 teaspoon salt
1/2 cup plus 1 tablespoon oil (I use canola)
Directions:
1. In medium bowl, combine flour and salt.  Stir in oil until mixture resembles coarse crumbs.  Sprinkle 3 to 4 tablespoons cold water – 1 tablespoon at a time – into flour mixture, mixing with a fork after each addition until pastry is moist and cleans side of bowl.  With hands shape pastry into a ball. Divide pastry ball into two pieces one slightly larger; shape each piece into a ball.
2. To roll crust – wipe counter with damp cloth. Center a 12-15 inch piece of wax paper on dampened surface.  For your bottom crust –  place the larger ball on wax paper; cover with second square of wax paper and with rolling pin, roll pastry into circle approximately 1/8 inch thick and about 2 inches larger all-around then the pie plate.
3. Gently peel off top sheet of wax paper. Transfer pastry on bottom sheet of waxed paper into pie plate (pastry side down). Gently peel off wax paper and ease into bottom and sides of plate.  For the top crust, roll smaller ball the same way as bottom crust. Center over filling in bottom crust, peel off wax paper.
4. With sharp knife or scissors trim pastry edges leaving 1 inch overhang.  Fold overhang under, grabbing and folding the top and bottom crusts together, if possible.  Bring up over pie plate rim to form an edge.  Flute edges or use the back of a fork (dipped in flour) and press pastry to plate rim all around the edge.
5. Cut a few slits into the center of the top crust. Bake pie as directed
Enjoy!!
Printable Recipe:
---