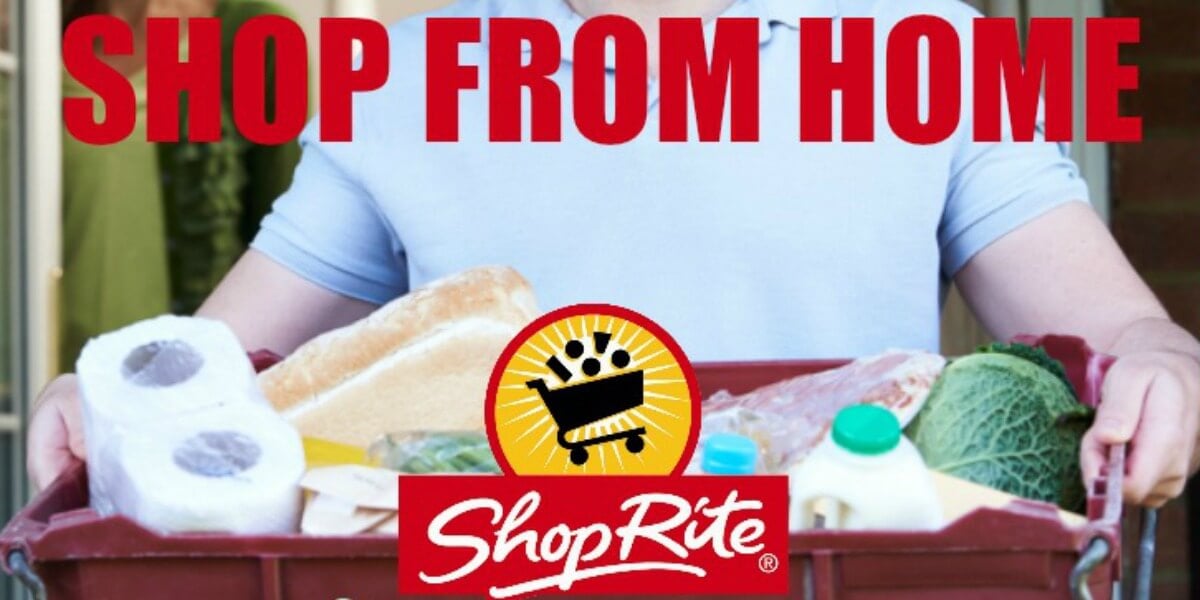 How to Use ShopRite Shop From Home
Hello my favorite ShopRite shoppers! If you are a fan of ShopRite Shop From Home, you are in luck! ShopRite has made some awesome changes to the Shop From Home Promotions that will knock your socks off. If you have never tried Shop From Home, I'm willing to bet you will now.
Every week ShopRite offers various promotions such as Buy $20 Spring Cleaning and save $10 on your order when ordering through Shop From Home. Previously we were never able to stack offers….until now.
That's right! We can now stack promotional offers. And, the best part is, they automatically track on your order making it super easy to score more than one of the awesome deals they offer each week.
Changes to ShopRite Shop From Home Promotions
You can now stack different promotions together in one order.
Each individual promotion can only be done once.
The promotions will automatically track while you are shopping online and will show the status of the promotion
Most promotions require a minimum of $50 in your cart (this may vary so be sure to watch the promotion details). The $50 in your cart can be counted from other promotions you are working towards. For instance, if you have a "buy $25 in Spring Cleaning and save $10" which requires a $50 minimum purchase AND you also have, in your cart, a "Buy $25 in P&G products and save $10" that requires a $50 minimum purchase, you will have met the $50 requirement from doing both promotions together in the same transaction.
You can also stack a threshold promotion that is good for any purchase. For instance, this week they have a Buy $200 in groceries and save $25. This type of promotion does not automatically track so you will have to put the promo code in at the very end of checkout. You will, however, see it added to your list of promo deductions (see image below), if you qualified for it. Qualifying for these extra promotional savings is tracked before the other promotional code discounts are applied.
Shop From Home Fee
These fees have remained the same however it's important to note that each store varies when it comes to fees with Shop from Home orders – some stores charge a flat fee of $10 for placing a Shop from Home order while other stores charge 10% depending on the total of your order.
Here is the fine print for a store with 10% service fee:
A personal shopper service fee of 10% will be applied to the first $150 of any purchase. Shopping fees will be calculated on your order total BEFORE taxes, coupons, promotions and refunds are applied. Price Plus discounts will be deducted before the shopping fee is calculated.
Here are some FAQs regarding Shop at Home Deals:
How do you find out about the Shop at Home Code? The weekly Shop at Home codes are located in the weekly ad and also you can find them on the front page of the Shop at Home site. You can also view them on the Shop at Home promotion page.
How do you know the products that are participating in the offer code? When you are on the Shop at Home page, click on the promotion banner or the "Shop Weekly Promotions" in the navigation bar at ShopRite.com.  It will take you to all the products included in that promotion.
Are these same promotions codes available for in store purchases? No these are just for Shop at Home purchases.
How do you use coupons when doing a Shop at Home order? It's easy to use coupons when doing a Shop at Home order.  Simply hand the cashier your coupons and they will adjust the total at the final check out.
How Can I Save Even More
You sure can, by following the Living Rich With Coupons ShopRite Match Ups of course!
Be sure to check out our ShopRite Weekly Match Ups (click on the Shop From Home tab). Not only do we list all the current ShopRite promotions but we also compile the very best deals stacking coupons, catalinas, rebates and more so you can maximize the savings.
The ShopRite Shop From Home Match Ups are usually completed by Tuesday so be sure to look for the post announcing the list. Or just visit our weekly ShopRite Match Ups and use our Coupon Database to put together your own deals.
Sample of Checkout
Below is a screenshot of a sample shopping cart. Just to test it out and so you can see what the cart would look like, we put most of the current deals in the cart including the current Buy $200 Save $25 on groceries.
Let us know your experience with the new ShopRite Shop From Home changes.
And, for those that are wondering (as comments have been made from other informational posts we have done) this is NOT sponsored content, we are only posting this because we love ya and knew you would want to know. You're welcome 😉