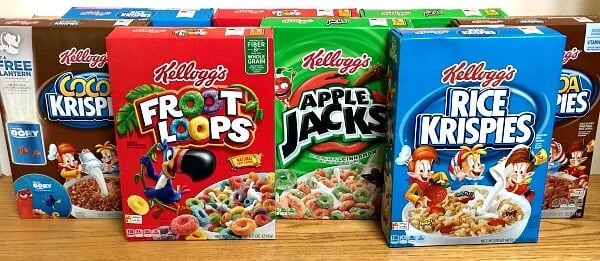 Kellogg's Coupons
Woot!  Stock up time on some more cereal. This deal just got a little sweeter.  We told you about this deal last week HERE , Through 5/27, ShopRite  has a Buy 7 participating products get a $5 Catalina.  Included in this deal is Kellogg's Froot Loops, Froot Loops Bloopers, Rice Krispies, Raisin Bran, Apple Jacks, Corn Pops,  Cinnabon, Cocoa Krispies, Corn Flakes and Keebler Cookie Cereals priced at $1.99.   This deal has been working with out issue!
We have the following offers available for this deal:
$1/3 Kelloggs Froot Loops, Apple Jacks, Corn Pops, Honey Smacks, FMW Little Bites, Krave &/or Kelloggs Frosted Flakes, exp. Varies
$1/3 Kelloggs Special K, All Bran, Frosted Mini Wheats, rice krispies, raisin bran, corn flakes, 5/14 RP (R), exp. 06/25/2017
$1/2 Kelloggs Corn Pops, Krave and/or Apple Jacks Cereals (8.7 oz. or Larger, Any Flavor, Mix or Match), exp. Varies
We also have some great rebates available: The values and limits are regional, check your app.
Although this  $3/5 Kelloggs Cereals, any variety (8.7 oz. or Larger)., ShopRite eCoupon exp 6/3/17 is no longer available  to be clipped it has not yet expired.. You could  pick up a mix of  Kellogg's Corn Pops, Apple Jacks, Raisin Bran and or Rice or Cocoa Krispies  for FREE + $5.97 Money maker after coupons, Rebates and Catalina.
Even if you no longer have the ShopRite eCoupon you can still score 7 boxes for FREE +$2.97 Money maker , either way its a great deal!
You can mix and match this Catalina to fit your families needs.  The deals below are just Ideas to get the most out of all the offers available.
This is a great deal regardless of which Rebate you have in your gallery!
Don't forget you can always log into your Kellogg's Family Rewards account and cash in some points for more deals.
Here are is your deal at ShopRite through 5/27:
Be sure to check out the rest of the ShopRite Deals for the week before you shop.