What Living Rich with Coupons Has to Offer
Orange Theory Fitness Review
I know you've heard of Orange Theory Fitness. Who hasn't?! I'm a HUGE fan of this gym. Such a fan that I've been going since October of 2015! Here's a great video posted by OTF New Mexico – so you can get an idea of what the gym is like!
---
What is Orange Theory Fitness (the non-technical version)
An instructors leads 15-30 people for 60 minutes classes. There are 2 different stations: the Treadmills/rowers (cardio) and the Weight Room. Halfway through the class you switch stations. There are 4 different types of workout days you can have: Power, Endurance, Strength or a mix of all 3.
Heart Rate Monitors
Everyone wears a Heart Rate Monitor (you do have to buy this) for every class. The Heart Rate Monitors track your entire workout. There is a TV screen in the room where you will see a box with your name in it. This box has your Splat Points (I'll get to this), heart rate, calories burned, and a number (% of max heart rate) that increases based on your heart rate. This number also turns your box different colors which is what tells you how hard you are working:
⚪️Grey: Very Light Activity (50-60% Max HR)
🔵Blue: Warm Up (61-70% of Max HR)
💚Green: Challenging-Doable (71-83% of Max HR)
🧡Orange: ORANGE EFFECT, uncomfortable (84%-91% of Max HR)
❤️Red: All Out Effort (92 – 100% of Max HR)
You're goal is to be in the Orange Zone for at least 12 minutes of your workout. For every minute you are in the Orange Zone you get something called a Splat Point! So you want at least 12 Splat Points per workout!
Treadmills
The treadmill workouts are as tough as you want them to be! I personally find them very difficult because I make them difficult on myself 🤣. But that's the beauty of them, you can Walk, Jog or Run, it's up to YOU! Everyone has their own Base, Push and All Out Paces.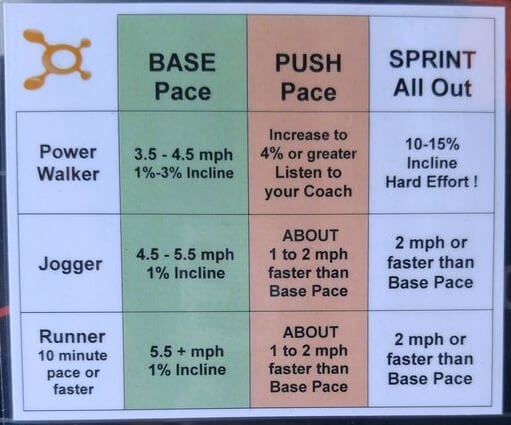 😀Base Pace: Comfortable to do for a long period of time (my personal base is a 6)
🤩Push: It's not comfortable doing this for a while (my personal push is a 7-7.5)
😱All Out: You want the running to stop – that's how hard it is! (my personal All out is 8.5 – 10)
Your trainer will add inclines, tell you when and how long to be in a push, how long to be in a base. Most of your time will be in a base and a push, you'll sprint for 30 seconds at a time (sometimes 1 min) – It's AWESOME! If you don't run, there are ellipticals and bikes!
Weight Room
The Weight Room Block is always challenging and ALWAYS new. You can have anywhere from 1-3 blocks of exercises. Your trainer will have a variety of exercises on a screen and will show you how to do each one. You'll use anything from a TRX band, free weights, body weight a Bosu ball and a bench.
The exercises are usually grouped in 3-6 things that you do until time is up. Your heart rate stays up when doing this! It's awesome!
Rowers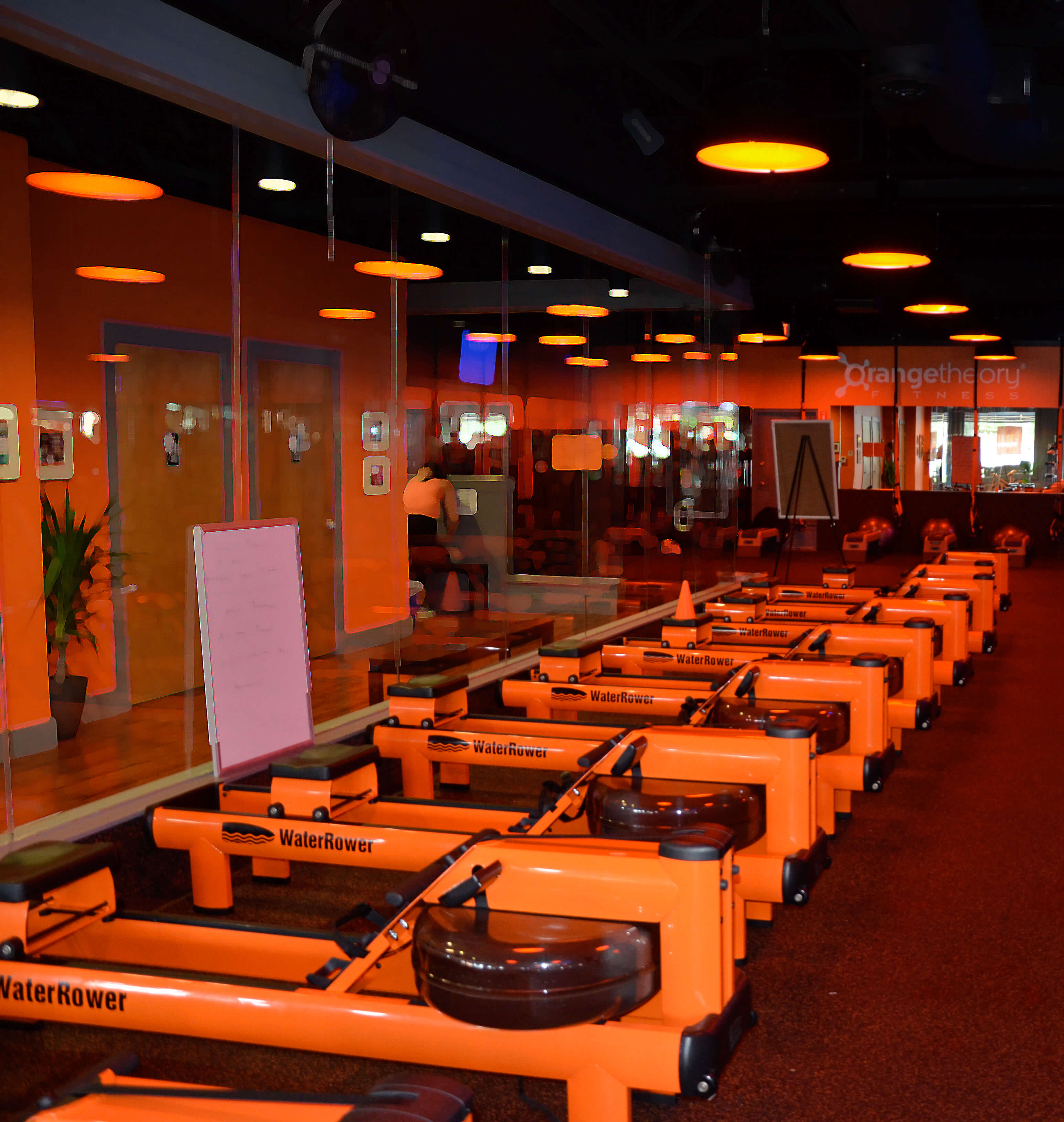 The rowers are used during warm up mostly. Sometimes during the treadmill workout you'll switch to a rower and sometimes during a weight room workout you'll incorporate the rower. What is nice about this is they will teach you how to use the rower correctly!
---
The Good of Orange Theory
So there may be a ton of good here, but I seriously love this place.
Performance Summary after each class
So based off your heart rate monitor you get this awesome summary after every class. You can see if you broke any personal goals for yourself, share it with your friends, and just be proud of yourself. 🙃
Go at Your Own Pace
🚶‍♂️🏃‍♀️🏃‍♂️I love this place because you can go at your own pace. You can be extremely new to working out to someone who will work out 6 days a week. OTF allows you do what works best for you and you can push yourself as hard as you want to push yourself. This is especially awesome if you have an injury and you need to ease your way back into the gym!
Heart Rate Monitor
🧡This small piece of equipment holds you accountable! If you aren't in the orange when you should be – well then you aren't working hard enough! It helps you push yourself to where you want to be that day! I LOVE that about OTF!
*They have new fancy heard rate monitors now that you can hook up to an app on your phone and workout outside of OTF with it! It's black and really nice!
Trainers and Staff
👫I can't tell you enough how nice they are. They are SO kind when you first sign up. They show you exactly how to use everything in the gym – explain all of your options to you. They are just the best.
NO CONTRACTS!
🚫You do NOT need to sign a contract for this gym. If you decide you want to stop your membership – you give them about a month's notice and you are done! No strings attached! That's HUGE to me! I also love that your first class is free!
Lockers and Showers
🚿You don't need your own lock to lock up your stuff! There are plenty of lockers with a code you put in when you get there. EASY! You can also shower there if you want!
Class Times
⌚️There are LOADS of class times available and you can sign up right in their easy to use app! They have early morning classes, classes starting in the early afternoon and 8pm classes! Something for everyone!
---
The Bad
The Price *Prices vary greatly by location

One of the worst things about the gym is the price – but I mean you get what you pay for right?!
💰Basic (four classes a month) – $59
💵Elite (eight a month) – $99
💸Premier (unlimited) – $159
You can add additional classes to Basic for $14 and Elite for $12. Also – you can buy a package of 10, 20 classes if you want!
Note that these prices may vary based on your location!
Pay an upfront cost for the heart rate monitor
🤯You do have to pay for your heart rate monitor upfront. It is pricey at about $115 – BUT OTF has an app where you can use your heart rate monitor outside of the gym. Not TOO bad 🙂
Certain Classes Fill Up FAST
☹️If you love going to the gym in the morning or on the weekend – you're going to have to sign up for your class in advance – these classes fill up quick! You're then put on a wait list and you'll be notified if you make it in the class! Sign up early to avoid the problem! I go at 4:30 in the afternoon so I never have this problem!
---
Workout Example
I wanted to write down one workout example that you'd do at OTF. Reminder that there is a different workout every single day. This is just an example of the structure!
The Trainer will tell you exactly what to do and when to do it! You don't have to think about anything except working hard!
CARDIO
Block 1 – ROWER (14 minutes)
1600m row + 25bw squat jacks
250m row + 25 pulsing 1/2 squats (repeat – squats decrease by 5)
Block 2 – TREADMILL (14 minutes)
4 min – push pace
2 min – base pace
30 sec – push pace
30 sec – all out pace
1 min – walk
4 min – push pace
1 min – walk
30 sec – push pace
30 sec – all out pace
WEIGHT ROOM
Block 1 -Weight Room 4 min:
8 each – lateral lunge
13 – uppercuts
*with weights, switch between these 2 for 4 minutes
Block 2 -Weight Room 8.5 min:
60 running man (once)
8 each – TRX single leg squat + 13 goblet squat (repeat 2x)
30 running man (once)
8 each – side plank pendulum + 13 straight leg raise (repeat 2x)
My Opinion Overall
If you are looking to get back into the gym – DO IT! This place is uplifting, fun, you always get an amazing workout and the people are so nice! The money is worth it! Go once a week at least so you know you're very active at least once a week! Let me know if you try it out!
---
You might want some new workout gear! Don't spend a ton! Check out my LuluLemon Dupes ($18.99 vs $98)
What's Hot on LRWC