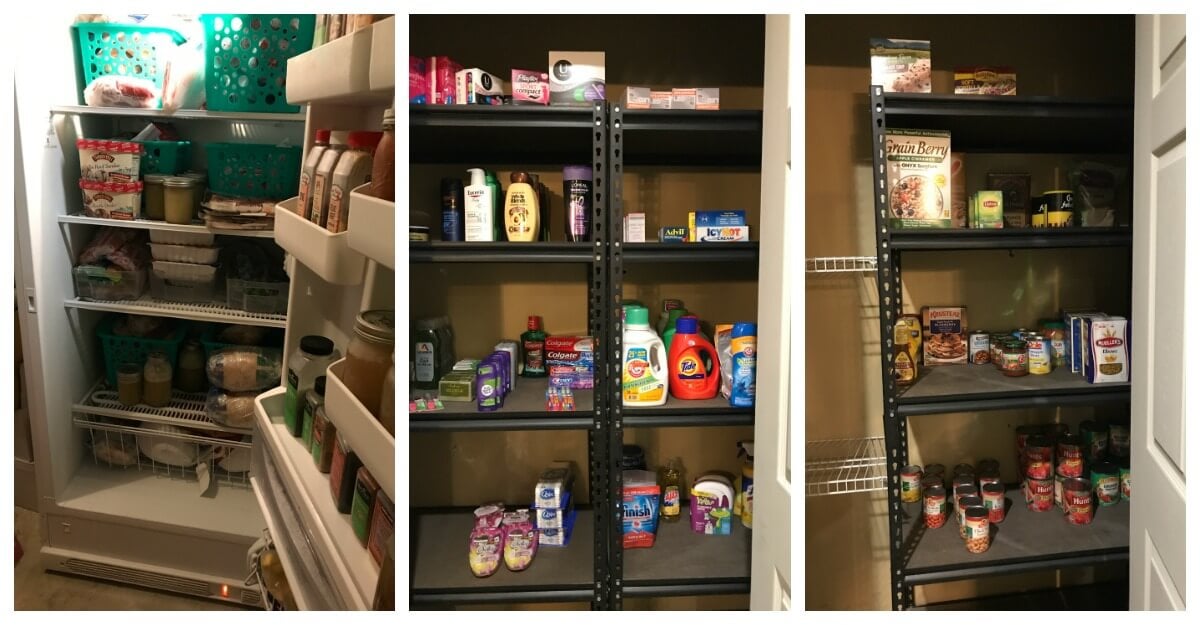 Zero to Stockpile
Well guys, we got through 6 weeks of the Zero to Stockpile Challenge. While I'm not fully stocked up, my stockpile is truly saving me money because, once again, I'm way under budget.
Like last week, I still have around $80 left in my budget. And, I even stocked up on 80 rolls of toilet paper which is being delivered tomorrow.
While the saving money part is great, I'm loving the ease of the shopping. So much less stress, so much less time. I hardly need to shop.
What I Gave Up
I have decided, that on top of giving up using paper towels and paper napkins on a daily basis (I use cloth rags and cloth napkins instead), I am now giving up on buying liquid hand soap. Seriously, it's so easy and inexpensive to make your own. I'll be doing a post on it but, long story short, fill an 8oz soap dispenser (preferably an old foaming soap dispenser) with water. Add in 2 tablespoons (1 oz) of concentrated liquid castile soap. I had castile soap (Dr. Bonner's) in my house that I used and I added about 5 drops tea tree essential oils (supposed to have antibacterial properties, although from what I understand, it's not proven here in the US). The foaming dispenser works best so if you have an old one then you can use that. If not, they sell them on Amazon. You can get basic foaming dispensers or if you want a little more fancy, you can invest in something nicer. I found these apothecary jars which are pretty but pricey.
I'm almost out of the castile soap and I'm also considering using it for everyday cleaning as well (still doing some research on that) so I'm in the process of finding deals. I'm really leaning towards this Oregon Soap Company Concentrated Liquid Castile Soap. It's the lowest price per ounce I could find so far at just $0.45/oz which makes each bottle of hand soap I make, just $0.45 a bottle. Well, maybe a little more for the essential oils.
I would love to hear your thoughts on what you use and where you find the best deals on the products.
How I Shopped
Once again, a super easy week. I shopped on Monday at ShopRite, CVS, Aldi and Best Market (my local market). And, I shopped online buying toilet paper. It really doesn't get much easier than that.
I did buy the following after my last shopping trip:
At ShopRite:
Bought 1 ShopRite Brand Ricotta Cheese $4.69
Use $3 catalina from previous week
Paid: $1.69
On Amazon:
Bought 1 Case of Toilet Paper (80 rolls) $40.14
Paid: $40.14
My Plan for Next Week
It's looking to be a quiet week next week. I have $10 to spend at ShopRite and I might just go in and spend it on coffee (don't judge!). I will definitely hit up Aldi and maybe Best Market for some produce. I may be doing some Costco shopping as well to fill in a few things I want and need like butter, maple syrup, almond butter. I need brown rice but I haven't figured out where to get it yet. There is a coupon available at Costco but I've always gotten it free (or super super cheap) at ShopRite when the coupon comes out. Unfortunately, I haven't seen that coupon since we started the Zero to Stockpile challenge. My luck, I'll buy a big pack at Costco and then the coupon will appear.
How I Challenged Myself This Week
If you aren't following me on social media, you probably don't know that my word for 2018 is Challenge. This year is my year to challenge myself on things I've been afraid to try, haven't put the time in to try or even things I never thought I could or would do. This week, my challenges fell into the category of "haven't put the time in to try".
Making my own Liquid Hand Soap – This was the second week I was playing with the liquid hand soap. As you can see above, I've finally come up with a solution that works for me. Now, I just need to find the best deal on the soap.
Now It's Your Turn
So, now it's your turn. How did your week go? Did you have goals you wanted to reach? Did you reach them? Did you stock up on some important items your family needs? Did you challenge yourself with any new challenges or any of the ones I posted during the past two weeks?
What You Might Have Missed
In case you missed my shopping trips, you can see each one of them below.  I also show my budget as well as the items currently sitting in my stockpile and freezer.
I Challenge You
And, I challenged you with five things to make this an even more successful journey for you:
Zero to Stockpile Giveaway Winners
This week's Zero to Stockpile Giveaway Winner is larissajoleen (from Instagram). She won a $50 Amazon Gift Card. Remember, head to our Zero to Stockpile giveaway page to find out how to enter.
Tips to Follow My Journey
Follow me on my Instagram account where I post, via my IG Stories, all my day to day!
Join our Zero to Stockpile Facebook Group.
Sign up for the Zero to Stockpile Newsletter
---
More Hot Deals You Don't Want to Miss: