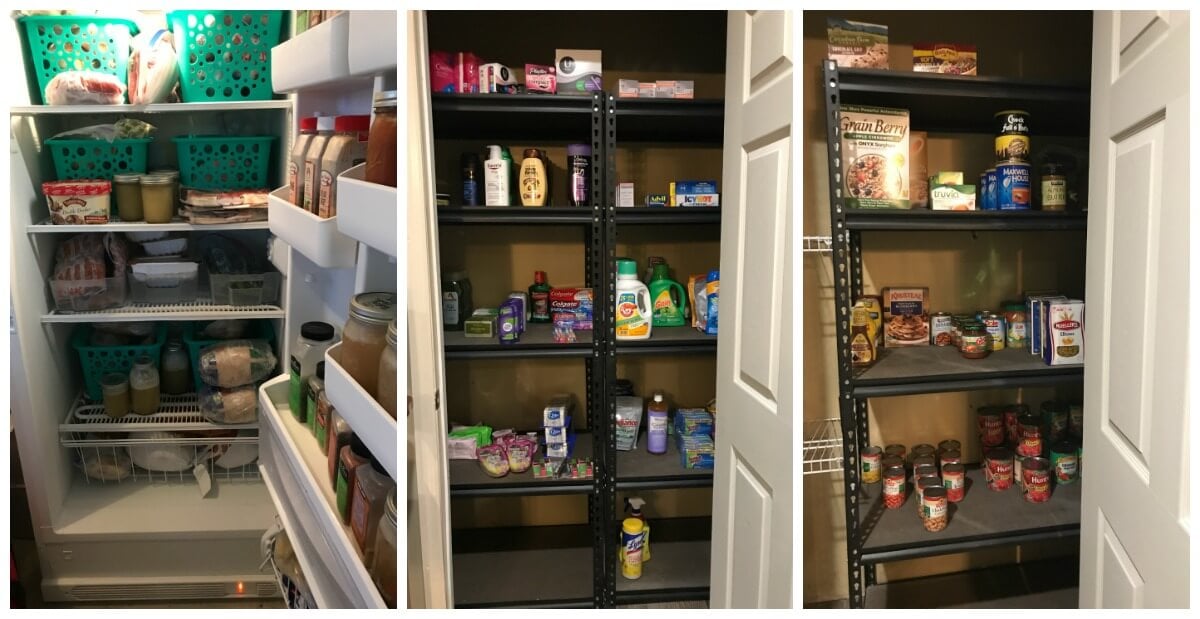 Zero to Stockpile
This week, which is week 7 of the Zero to Stockpile Challenge, I came so close to my old budget. Spending only $82 was the highlight of my week.
I still have a few items I really need that will make my stockpile complete but, I'm quite happy with the way my stockpile is shaping up. Today, I'm even spending the day reorganizing it. Yep, already. Since I've given up using paper towels (and not missing them at all, by the way) I realized I didn't need as much space for paper products. And so, I'm condensing my stockpile to just 3 shelves.
Of course, that frees up extra space for other things, which leads me to cleaning out my upstairs pantry, which leads me to getting rid of some unused appliances, which leads me to…..well you get the picture. You know where you'll find me today. Cleaning and reorganizing.
What I Gave Up
Since my stockpile is pretty full, I didn't really need to give up anything this week. Yay!
How I Shopped
Another super easy week of shopping for me.  I shopped on Monday at ShopRite, CVS, Aldi, Harmon, Costco and Best Market (my local market).
My Plan for Next Week
At the rate next week is going, I may not even step foot in ShopRite. My local Best Market is having some pretty good sales and I may head over to Stop & Shop to take advantage of the butter deal and a few other deals that looked good. Other than that, I'm good! Well, I do need to get dental floss next week so I'll be figuring something out for that.
How I Challenged Myself This Week
If you aren't following me on social media, you probably don't know that my word for 2018 is Challenge. This year is my year to challenge myself on things I've been afraid to try, haven't put the time in to try or even things I never thought I could or would do. This week, my challenges fell into the category of "haven't put the time in to try".
Stay under $100 of grocery spending – Yep, that was my only challenge this week. I was determined to get there and, it was a success. Now my challenge is going to be to continue stocking up on items and staying at just $75 a week for the next 5 weeks.
Now It's Your Turn
So, now it's your turn. How did your week go? Did you have goals you wanted to reach? Did you reach them? Did you stock up on some important items your family needs? Did you challenge yourself with any new challenges or any of the ones I posted during the past two weeks?
What You Might Have Missed
In case you missed my shopping trips, you can see each one of them below.  I also show my budget as well as the items currently sitting in my stockpile and freezer.
I Challenge You
And, I challenged you with five things to make this an even more successful journey for you:
Zero to Stockpile Giveaway Winners
This week's Zero to Stockpile Giveaway Winner is larissajoleen (from Instagram). She won a $50 Amazon Gift Card. Remember, head to our Zero to Stockpile giveaway page to find out how to enter.
Tips to Follow My Journey
Follow me on my Instagram account where I post, via my IG Stories, all my day to day!
Join our Zero to Stockpile Facebook Group.
Sign up for the Zero to Stockpile Newsletter
---
More Hot Deals You Don't Want to Miss: