A few months back I started a project on my closet that turned into the most fun DIY project I've ever done. My intention at first, was to just utilize a wasted area on the back end of my "real closet". But, as I got started, it took on a life of its own.
DIY Custom Closet
My budget, originally was just $100. I used up that $100 quickly to help organize my shoes. I know, I have a lot of shoes. I'll address that embarrassing fact shortly. 😉
As the project grew, I found ways to work more money into the budget. First being the lighting.
We happened to have a lighting budget we were building upon for the lights on the first floor of our house. After discussing it with Pat, he gave in agreed to allow me to use that money on my closet lights. Which, after the original budget of $100 and then adding in $200 for the lights, I only needed another $125.
The project took me a few months to complete. I needed time to source out the items I wanted at a great price and I needed time to save up that additional $125. Some of the ways I "found" the money was from my blow money, Pat's blow money (I begged! It wasn't pretty!), extra grocery money (this was before the Zero to Stockpile Challenge, etc.
Now, with that said, let me show you exactly how I did it.
First off, let me explain my closet space. I started with a regular walk in closet with clothes hangers on either side. All that was there was a hanging bar on either side and a shelf.
Beyond the main closet area was a dormer, attic type space that wasn't being used properly. It stored an unused piece of exercise equipment, boxes of clothes needed to donate and tons of other unnecessary stuff.
Above is a look from the other direction.
Once we emptied the closet out. I realized how much space I truly had to work with and my wheels started turning.
Shoe Organization

We painted the walls of course, using Benjamin Moore Simply White.
Then, I started with what would become my shoe wall. There I used the LACK Wall Shelves from Ikea which are priced at just $14.99 each. I bought a total of 9 shelves for a cost of $135.
If you look at the very top image, you can see a shelf tucked in the corner.  Originally, I was going to use the smaller shelves there but opted not to spend the extra money and just reused an old shelf unit I already had.
That space houses my off season shoes.
Okay, okay, let's discuss the shoe situation. I know, there are a lot.
Honestly, I had no idea I had that many. For years, my shoes were shoved in spaces, hidden behind clothes, under beds and generally not easily seen. So, I would, when I needed a new pair of shoes, just buy them thinking that I didn't have anything like that.
That was the case with more dressy shoes. Hence the reason I am now the proud owner of 3 pairs of nude pumps and 4 pairs of black booties. Yikes!
I can tell you, that I am always getting deals on my shoes as a few of my boots are big clearance sales from Kohls. I shop Marshalls and DSW, etc.
But, funny thing is, this closet redo now has stopped me from having to buy shoes…well mostly. Still working on that ;). Which, is a long term savings for me. And that's what I'm going with! 😉 But, boy do they look so purty all lined up there.

Clothing Organization
Next came the clothes area which was also my original closet space.
I didn't do anything extra here except add shelves under the clothes where I store my jeans, pjs, sweat shirts, sweat pants and exercise apparel.
The shelves I used are also from Ikea but from the office furniture section. These bookcases we had in our office from a few years ago that we were not using anymore. So, I repurposed them as shelves for the closet.

Hat And Scarf Organization
On the opposite wall from the shoes, I utilized that space to organize and display my scarves and hats. This wall was another zero cost as I got a little creative with things I already had around the house.
For the scarves, I used a rod that was left, hanging from the sloped ceiling,  in the back corner of the closet, when we bought the house. I believe they probably hung winter coats from it for storage.
I used the same hooks but put them into the wall instead of the ceiling allowing the rod to hang out just enough to tie the scarves around it.
For my hats, I simply hammered a gold finished nail into the wall where I wanted to hang each hat. These were just regular nails I already had in my garage.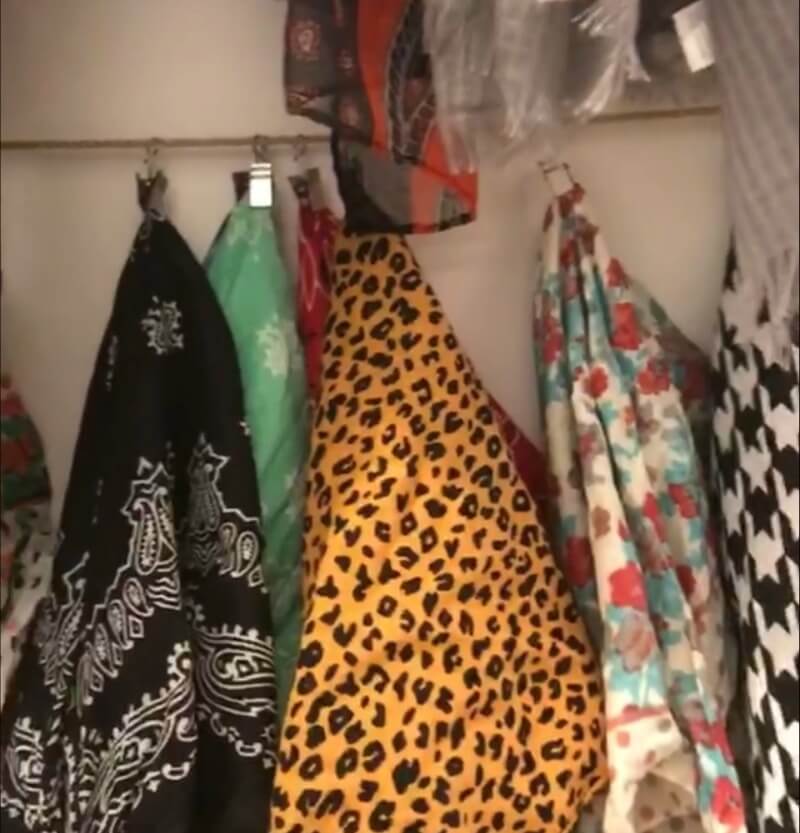 Below the scarves, I hung all my bandanas. This was also a zero cost project using heavy twine I had pulled tight from 2 nails. Then I used drapery clips that I have had for a while.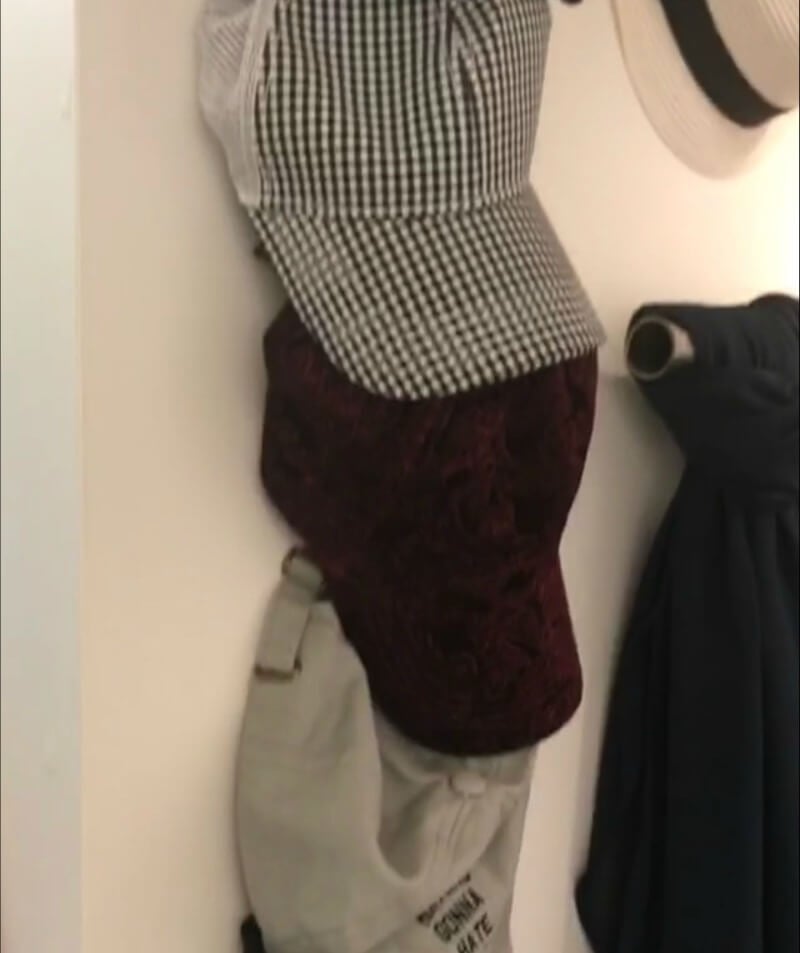 I used the same clips for my baseball caps. Instead of hanging them from twine, I attached each one to the wall with a nail. I spaced them about 12″ apart so that you would never see a nail even if you removed a hat.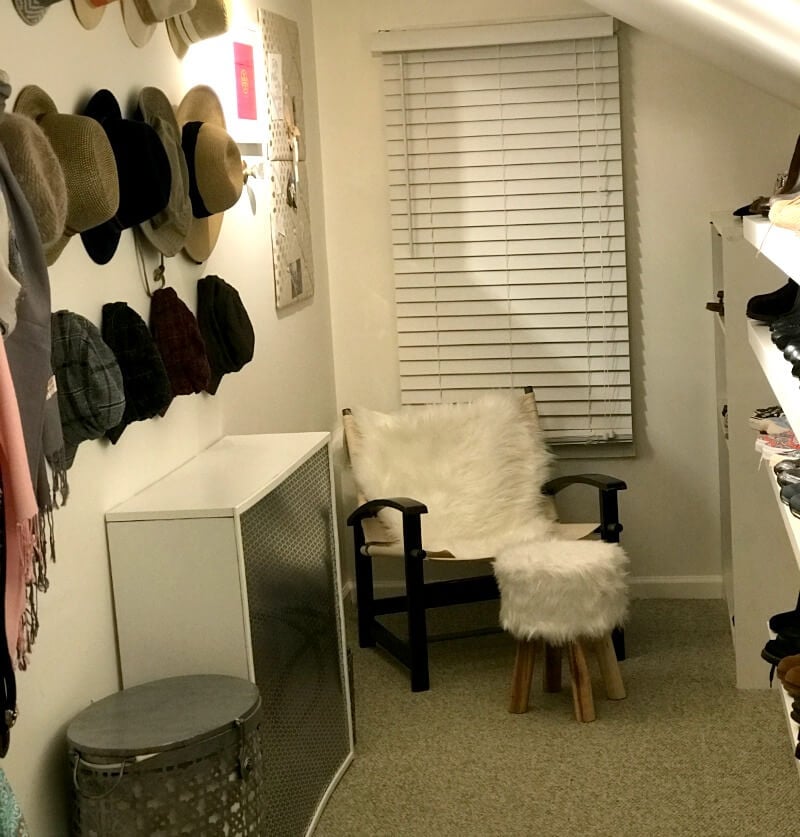 In this little corner, I got a little bit more creative.
I knew it needed a little chair but I didn't want to spend any money on it. So, I looked around the house for something we already had.
That chair (minus the fur) was tucked in our attic. It had been used in one of the kids rooms for many years. I think, if I remember correctly, we had gotten it at Target.
But, it wasn't exactly what I had envisioned so, I found this little fur throw rug at Homegoods for just $9.99. Adding that to the chair gave it a more of the look I was going for. The stool was also from Homegoods and cost just $14.99.
Now onto that white box you see next to the hamper….
In the closet is the back end of some mechanical elements from the back of our bathroom. They stick out into the closet and are quite ugly to look at. So, I needed to find a way to cover them that wasn't expensive.
Originally I was looking at radiator covers but there were two problems. The first was that standard size didn't fit our situation and the second was, to have them custom made was very expensive. So, I got creative.
We headed to Lowes and bought 10″ white shelves, metal radiator screen and screen trim and built it ourselves. It was super easy to make.
We attached it to the wall with Damage Free Command Hooks, something I can't live without in my house. Total cost was around $25.
Old Dresser Redo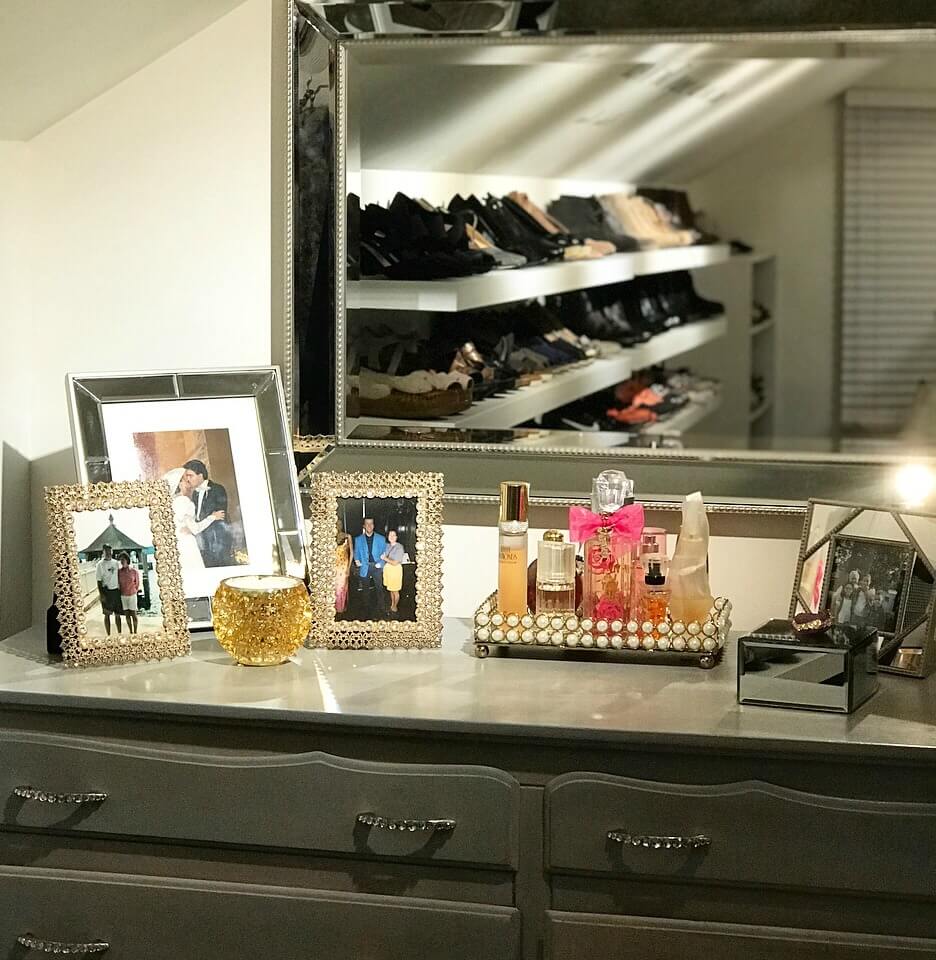 The dresser area is probably my favorite area. Well, after the shoes.
This dresser, like the chair, was in one of the kids rooms for a lot of years. I actually got it at an estate sale for like $50 back around 2004.
Back then, I had replaced the handles with just plain silver handles and they've been there every since. But, for this closet, I wanted a little bling. And bling I got, right on those handles.
I went to Hobby Lobby and picked up a container of crystal gems. I made sure they had different sizes in the pack because the handle tapers off at the ends and would require smaller size gems. I simply glued them onto the existing handles and boom….instant bling. Total cost was around $4.50
Closet Lighting
The one thing this closet was seriously lacking was lighting. There was one small light in the front section of the closet (where the closets are). And, there was one light in the long section of the closet by the window. The section where the dresser is, was very dark.
So, I found this track lighting at Ikea that could connect to the main box, by the window, and then continue adding more tracks as needed. We added three sections in all to be able to bring the lighting all the way over to the dresser. Total cost was $159.
I then replaced the light in the front section of the closet and gave it a little bling. This cute light I paid just $42 for shipped. 

Wall Quotes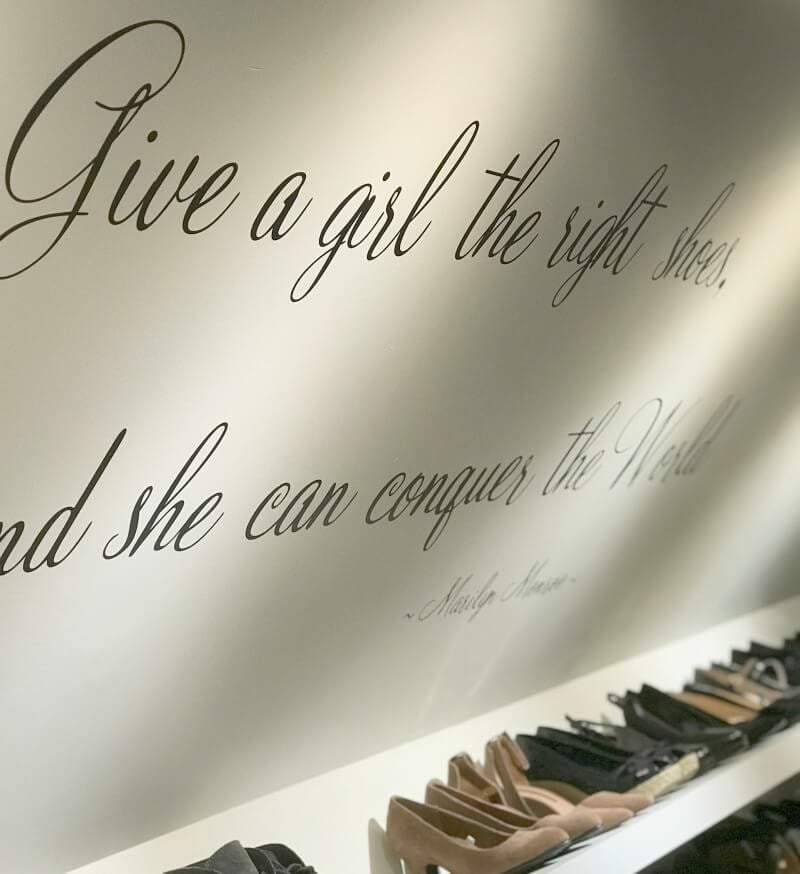 And, lastly, this awesome wall quote.
When I saw this quote and realized how many shoes I had, I knew it had to go up in the closet. And, with a big sloping, I knew exactly where it was going.
To custom make this quote it would have cost over $200. But, I put my Cricut machine to work and made it for just to cost of the vinyl.
For those that use Cricut machine, I made it word by word. It was easy to put up that way rather than having to fight with bigger sheets.
The only cost for this was two rolls of vinyl which I got on sale for just $12.
And there you have it. My brand new, custom dream closet for just under $425!
I  hope this will give you some inspiration to find elements from my closet to use in your own closet.
List of products used:
---
More Hot Deals You Don't Want to Miss: