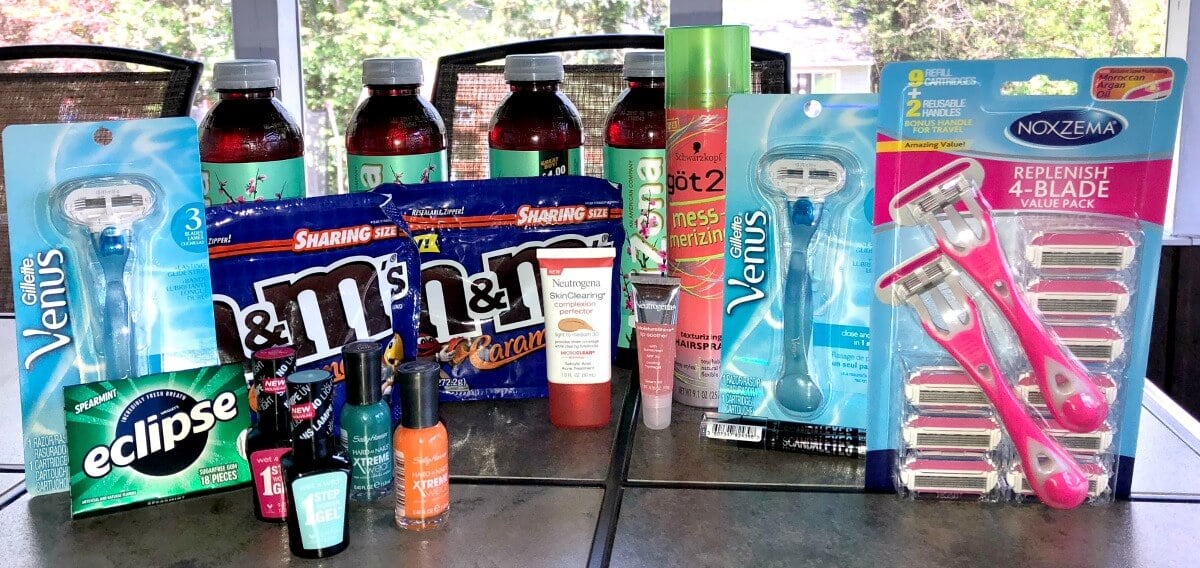 CVS Shopping Trip
This was the perfect week for me to roll the ExtraCare Bucks I was sitting on (I had almost $30 worth!)  Some generous ExtraCare Bucks deals, a few sweet offers sent to my CVS app, and some great MFR coupons resulted in a shopping trip that cost me  just $3.00…..for over $87.00 worth of products!  That's a savings of 97%!
Did everyone get their FREE Extra or Eclipse single pack gum?  That was an easy freebie for everyone because it didn't require any coupons!  You get that just for going to CVS and using your ExtraCare card!
I don't know about you, but I love when that Arizona drinks deal rolls around every few weeks.  I've got a bunch of thirsty mouths that love the Green Tea.  $0.50 a bottle is a great price!
You may have noticed that I used a $3/1 Rimmel eye printable coupon that is no longer available to print (it's been NLA for a while).  If I haven't mentioned it before, I always print high value cosmetics coupons as soon as they become available even if I'm not planning to use it that week.  They often disappear very quickly.  With Rimmel, I was lucky.  They printed with an expiration date of 5/31/2018!  Worked out great with the Rimmel Extra Care Bucks offers this week.
I'm definitely loving that BOGO FREE Neutrogena cosmetics deal.  There are some high value printable coupons available to use with that deal, so if you're planning on taking advantage of it…..PRINT QUICK!
Below is a list of what was purchased.  You can see the breakdown for each making it very easy for you to mix and match deals and know exactly how much each costs.
These are the CVS coupons used in this transaction:
$4/$10 Wet n Wild, CVS coupon (select shoppers)

$3.00 off Got2B hair styling (ets), CVS coupon (select shoppers)

$6/2 Venus Razors (exc. disposables), CVS coupon (select shoppers)
$3/$12 any cosmetics CVS coupon (select shoppers)
REMEMBER: Extra Care Bucks have an expiration date so you want to be sure and use them before they expire.  I am already planning how to use the ECBs I earned on this shopping trip for my next shopping trip!
Be sure to share your favorite deals this week as well. Happy Savings!
This List Has Expired
CVS Shopping Trip {through 5/26}
---
More CVS Deals You'll Love: