More Ways to Save at Stop & Shop
Del Monte Coupon
Through 9/06 Stop & Shop, Giant, and Giant/Martin have Del Monte Fruit Cups on sale for $2.00 each, and when you Buy 2 You'll Score a FREE pack of Fruit & Oats Cups!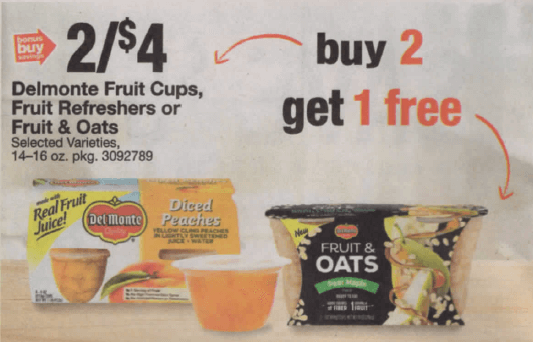 We have a really great $0.75/1 Del Monte Fruit & Oats, printable coupon available. Stop & Shoppers Pick up 3 of the new Del Monte Fruit & Oats, use all 3 coupons and pay nothing, you may even score as much as $0.50 overage so watch your totals just in case.
But wait! We also have a few Awesome rebates to stack! Assuming you pick up three new Fruit & Oats, you can actually score as much as a $2.25 money maker! Not to shabby!
Giant and Giant/Martin Shoppers your deals are slightly different but no less awesome! Check out your deal ideas below!
Available Offers:
$0.75/1 Del Monte fruit & oats, fruit & chia, or fruit refreshers 2pk, 8/5 SS, exp. 09/05/2018
$1/2 Del Monte fruit cup snacks 4pk, 8/5 SS, exp. 09/05/2018
$1/1 Del Monte fruit & oats, fruit & chia, or fruit refreshers 2pk, 8/5 SS (R), exp. 09/05/2018
$0.75/1 Del Monte Fruit & Oats, Fruit & Chia or Fruit Refreshers any variety excludes Del Monte Fruit Cup Snacks (Limit 1) (Cannot use this offer with any other print or in app coupon or rebate), Checkout51 Rebate, exp. 08/23/2018
$0.75/2 Del Monte Packaged Fruit Cups. Buy 2 of any variety, any size. (Various Stores), Ibotta Rebate, exp. Varies
$0.50/1 Del Monte Fruit Refreshers for any variety, any size. (Limit 5) (Various Stores), Ibotta Rebate, exp. Varies
$0.75/1 Del Monte Fruit & Oats for any variety, any size. (limit 5) (Various Stores), Ibotta Rebate, exp. Varies
$4/$12 Del Monte Fruit Cup Snacks. Excludes Del Monte Fruit & Oats, Fruit & Chia, and Fruit Refreshers products., SavingStar Rebate, exp. Varies
Note: Ibotta rebates can vary by person
Here is your deal at Stop & Shop, Giant, Giant/Martin Through 9/06 (or while rebates last):

This List Has Expired
Stop & Shop – Giant Starting 8/31
Stop & Shop – Giant/Martin Starting 8/31
---
More Stop & Shop Deals You'll Love: