More Ways to Save at Stop & Shop
Nutri-Grain Coupon
Through 8/30 Stop & Shop has an awesome Back To School Instant Savings Deal running! The deal is Buy 5 Participating Items and Save $5 Instantly! They did a really poor job of advertising all these items in the ad for us, but that's why we hit the store and check all the sales tags, to bring you the best deals! This exact deal is only running through 8/23 – after 8/23 we'll see if the pricing moves or if it's dropped from the deal.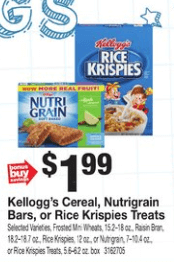 Included in the deal is Nutri-Grain Bars priced at $1.99 each! While we don't have any paper coupons available for this item we do have a SAVE $1.00 on any TWO Nutri-Grain® Softbaked Breakfast Bars (8 ct. or Larger, Any Flavor, Mix or Match), Stop & Shop eCoupon available. For Stop & Shoppers we can score 5 of these items for as low as $0.79 each! Pretty Sweet deal!
Giant/Martin Shoppers you'll pay the premium since your store has them priced at $2.50, still not a bad deal at just $1.30 each.
Giant your deal should be identical to Stop & Shops but check your shelf tags or test the deal and see if it's included at your store, your ad does have it listed in the Back To School section so we figure it's the same.
*Note: as always check your local ad/Shelf tags for participating items and pricing.
Additional Note: We did 2 deals in single transaction with NO issues. 
Here is your deals at Stop & Shop, Giant, and Giant/Martin Through 8/23:

This List Has Expired
Stop & Shop – Giant Through 8/23
Giant/Martin Through 8/23
---
More Stop & Shop Deals You'll Love: