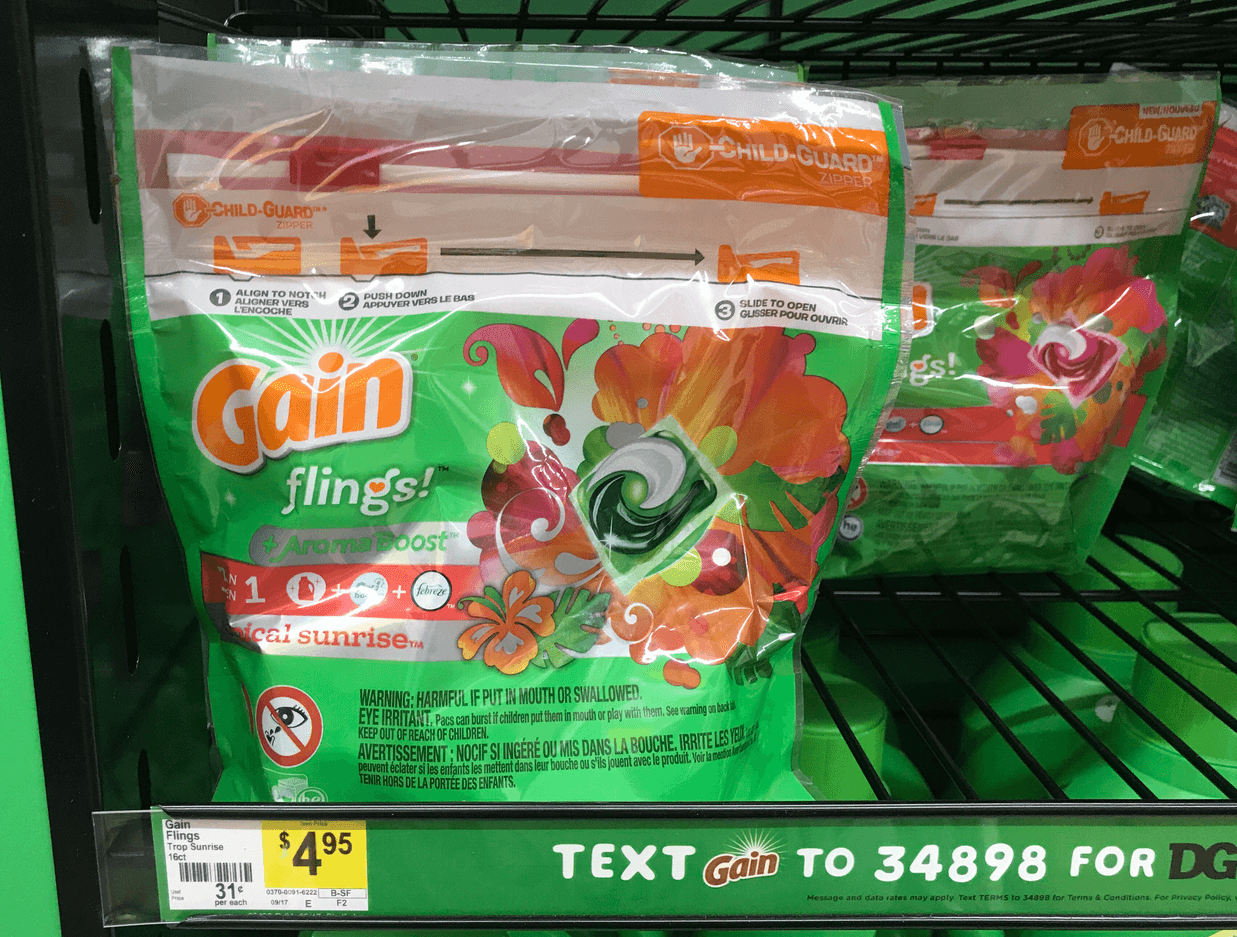 More Ways to Save at Dollar General
Gain Flings Coupon
Woot! Here is another great deal for you from Dollar General! Through 8/11, 12 to 14 count Gain Flings are on sale for $3.95!
Here are the available offers:
$2/1 Gain Powder, Gain Flings or Gain Liquid Detergent (Including Gain Botanicals) (Excludes Gain Flings 9ct and below ets) (Limit 1), exp. Varies
$2/1 Gain Flings 12 Ct to 20 ct (excludes liquid, powder, fabric enhancer, fireworks, flings 9ct and ets) (Limit 2), 8/5 RMN (R), exp. 09/01/2018
$2/1 Gain Flings 12 ct to 20 ct (excludes Gain Liquid Detergent, Gain Powder Detergent, Gain Fabric Enhancer, Gain Fireworks, Gain FLINGS 9 ct, and trial/travel DG Digital Coupon
$5/3 Gain Detergents, Flings Liquid or Powder and/or Fabric Enhancers Fireworks Dryer Sheets 40 ct or lower, Fireworks 6.4 ox and ets, exp. Varies
$3/3 Gain Detergents (Liquid, Flings or Powder), Fabric Enhancers (Fireworks), Dryer Sheets or Liquid Fabric Enhancer INCLUDES Gain Botanicals (excluding Flings 9ct and below and dryer sheets 40ct or lower, ets) (Limit 2), 7/29 PG, exp. 08/25/2018
After coupon, we can snag these for just $1.95! Plus to save even more, there is an awesome $5/$25 Gain Products DG Store Coupon we can use! For a great deal idea for that coupon check here!
Here is your Dollar General deal through 8/11:
---
More Dollar General Deals You'll Love: