More Ways to Save at Stop & Shop
Scott Coupon
Starting 8/31 Stop & Shop, Giant, and Giant/Martin are having another Instant Savings Deal! The deal i Spend $30 on Participating Products, and Save $10! Please note this deal is going to be handled a little differently. Please see below for more information.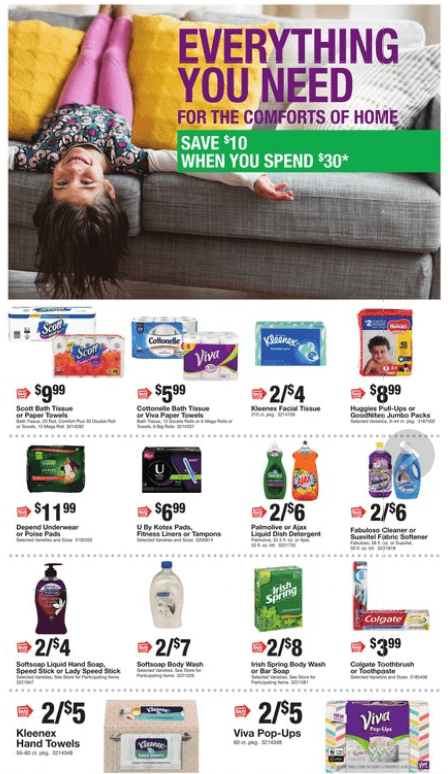 Update on this wording: The deal is working as a regular old instant savings despite the wording placed in the ad shown below. The deal is also working multiple times in a single transaction. 
Before we go any further lets get that pesky fine print out of the way! The Fine Print Reads:
Spend $30 Only Participating Products (before Taxes). $10 Offer will be loaded to your Stop & Shop card, and will be automatically applied to your next grocery order (which must total $10), when you present your Stop & Shop card at Checkout (offer applied before taxes and after all other coupons and savings) Grocery Order Calculations exclude gift cards, alcohol, tobacco, and any other items prohibited by law. Must use full $10 in a single transaction or it will be forfeited. Must Redeem Offer prior to the Last day of the Month after the Month in which the offer was loaded to your Stop & Shop Card 
Included in the deal is Scott Bath Tissue and Paper Towels, at Stop & Shop they are priced at $9.99 each! After stacked offers you can score the Bath Tissue as low as $0.21 Per Roll and the Towels for as low as $0.41 per roll, plus you'll score a box of Viva Pop-ups FREE! Nice Deals!
Available Offers: 
$0.50/1 Scott towels 6pk+, 7/29 SS #2, exp. 09/08/2018
$0.50/1 Scott bath tissue rolls 6ct+, 7/29 SS #2, exp. 09/08/2018
$0.50/1 Viva pop-ups, 7/29 SS #2, exp. 09/08/2018
Giant and Giant/Martin your store has the paper goods priced at $1.00 more – no worries we hooked you up with a pretty great deal!
*Note: as always check your local ad/Shelf tags for participating items and pricing.
Here is your deals at Stop & Shop, Giant and Giant/Martin Running 8/31 -9/06:

This List Has Expired
Stop & Shop Running 8/31 – 9/06
Giant – Giant/Martin Running 8/31 – 9/06
---
More Stop & Shop Deals You'll Love: