More Ways to Save at Stop & Shop
Chock Full O NutsCoupon
Through 9/20 Stop & Shop has Chock Full O Nuts Coffee on sale for $2.99 each!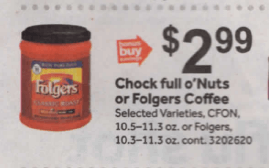 We have that really great $1/1 Chock full O Nuts any, Regional Coupon available from 8/19 Smart Source. Score each can for just $1.99 after coupon! Nice Deal!
Giant – Giant/Martin shoppers check your store for a similar deal!
Here is your deal at Stop & Shop Through 9/20:

---
More Stop & Shop Deals You'll Love: