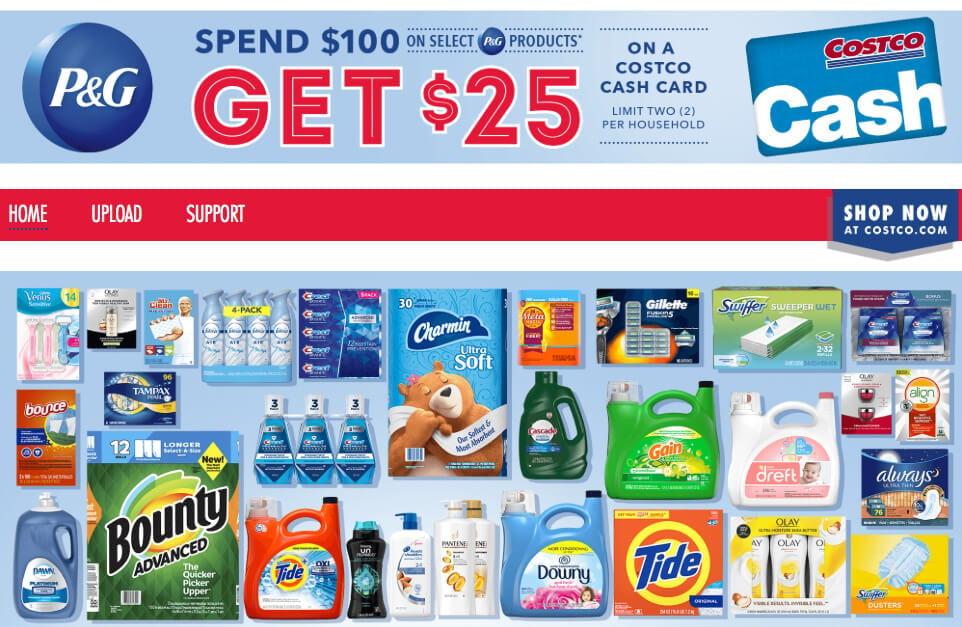 Spend $100 on P&G Products; Get $25 Costco Cash Card
Now until Sept 30th, Costco has a deal where if you spend $100 on select P&G products you will receive a $25 Costco Cash Card!
Here are the details:
Purchases must be made between 9/5 – 9/30 at either a Costco warehouse or online.  (The online prices are usually slightly higher than the warehouse prices).
Spend $100 (after discounts and instant savings offers and before tax) on select P&G products.
Send in a copy of your receipt or receipts by 10/30/18.  You can submit your receipts online or mail them. If you choose to mail your receipts there is a form to download and print . There is a limit of two offers per household.
Here's a list of the participating brands:
Align Probiotic
Always Pads & Liners
Bounce Dryer Sheets
Bounty Paper Towels
Cascade ActionPacs & Advanced Power Gel
Charmin Toilet Paper
Clearblue Ovulation & Pregnancy test
Crest—All Toothpaste, Brushes, Mouthwash, & Whitestrips
Dawn Liquid Dish Detergent (except as noted below)
Downy Fabric Conditioner & Unstopables Beads
Dreft Laundry Detergent
Febreze Air Fresheners
Gain Powder and Liquid Laundry Detergent
Gillette—All Handles, Blade Refills, & Disposables
Head & Shoulders
Joy Liquid Dish Detergent
Metamucil Fiber Powders
Mr. Clean Magic Eraser
Nyquil Severe Liquid and LiquiCaps
Olay Facial Moisturizers & Body Wash
Oral-B Brush Heads, CrossAction and Pulsar Toothbrushes, & Floss (there are some exceptions)
Pantene
Secret
Swiffer Wet & Dry Refills, Dusters, & Starter Kit
Pepto-Bismol
Prilosec Acid Relief
Tampax Tampons
Tide Laundry Detergent—All Liquids, Powders, & Pods
Venus—All Handles, Blade Refills, & Disposables
Vicks VapoRub
Check out the full details on the P&G promo on Costco's website at Get P&G Offer where you will see list all the products available.  Or go directly to the Costco and P&G offer where you can submit your receipts online or download the form needed to mail your offer.
I see plenty of items that I normally purchase at Costco so saving an extra $25 makes the prices even better!
---
More Costco Deals You'll Love: