More Ways to Save at Stop & Shop
Powerade Coupon
Another one of our Favorite Deals! Through 9/13 Giant has Powerade Drinks on sale for $0.69 each when you buy 5!
Unfortunately there are no coupons currently available for this deal, but at over 50% off your scoring a great deal for an item that rarely has coupons!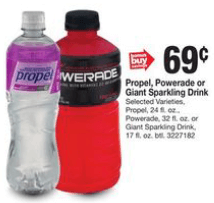 Giant/Martin you also have Powerade on sale for just $0.69 each (not purchase requirements). Great Deals!
*Note: As always check your sales circular before shopping/checking out for any regional variances. 
Here are your deals at Giant and Giant/Martin Through 9/13

This List Has Expired
Giant/Martin Through 9/13
---
More Stop & Shop Deals You'll Love: