Back To School at Staples
Happy first week back to school for us here in the Northeast! So sad to say goodbye to summer but it's always nice to transition into a new season. Kids in school are an added bonus. While you may have done your preliminary round of back to school shopping, there's always a list of items needed that wasn't on the first school supplies list! Staples, your #BacktoSchoolSpecialists still has you covered…this week, next week, all year long!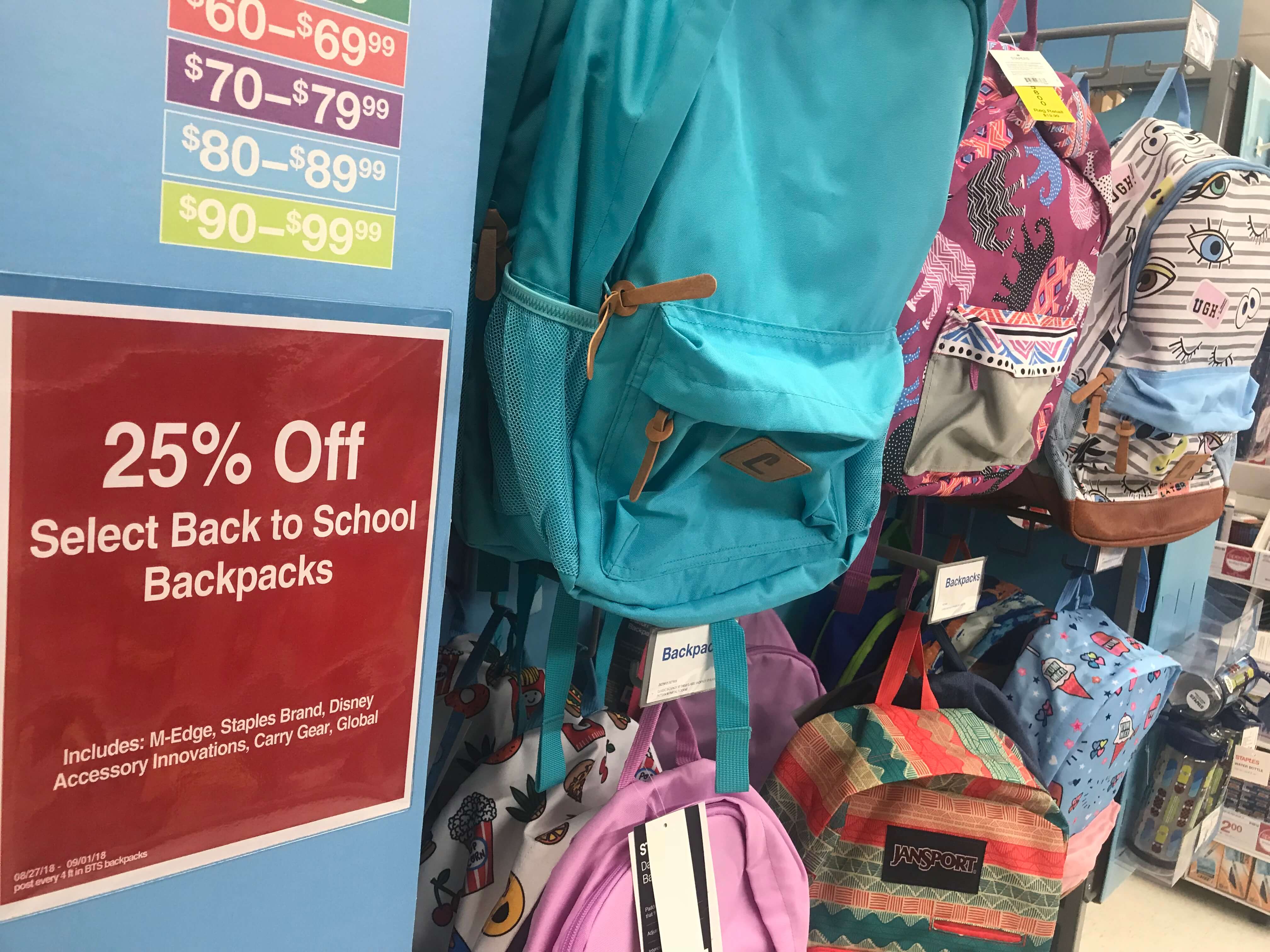 It's not too late to score trendy backpacks at 25% off.  I love the option to add on their Square Trade 2-year protection plan when purchasing a backpack, which covers damage from normal wear and tear. So practical and worth the investment!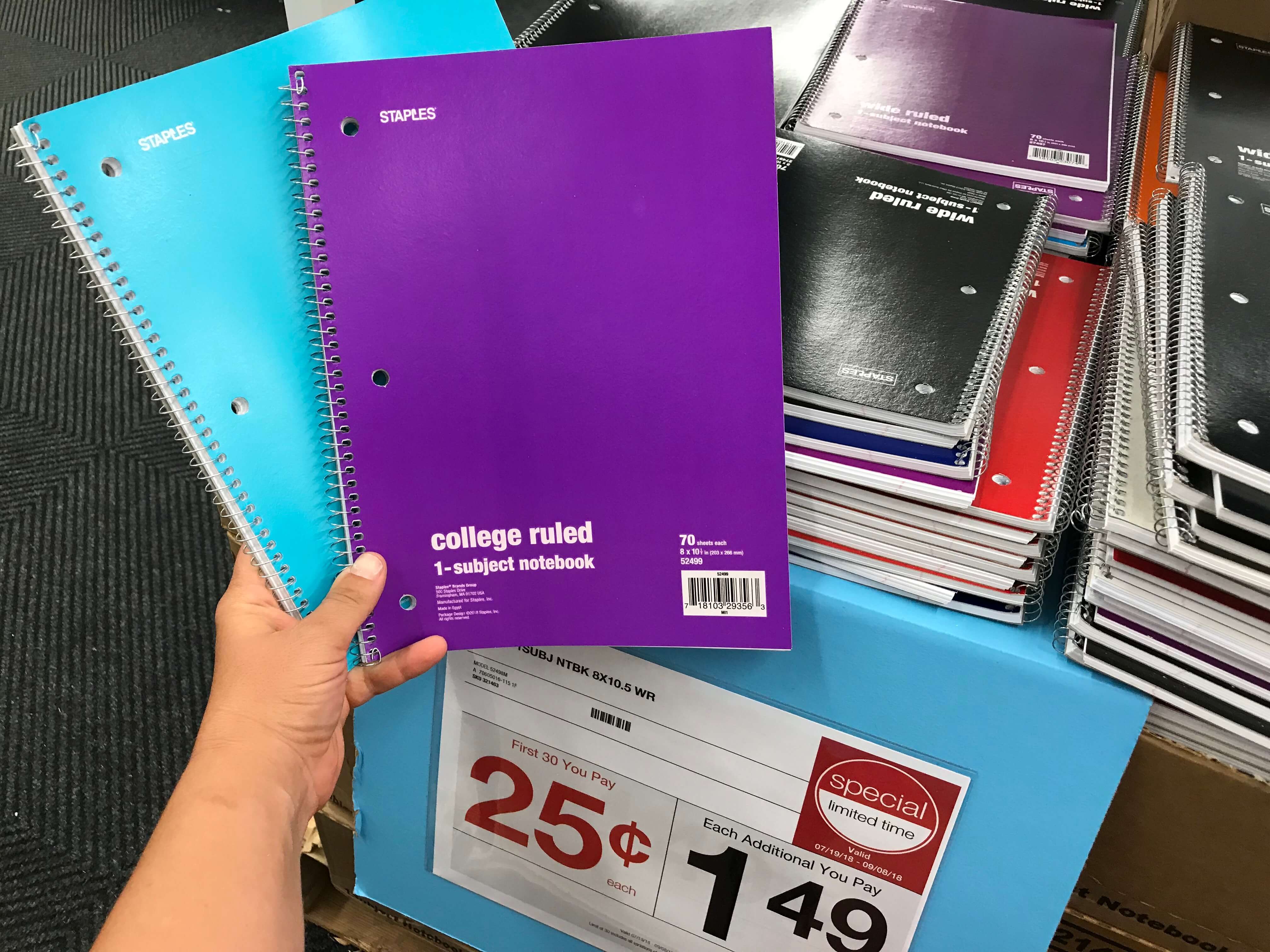 Now is the time to stock up on notebooks too! We always love seeing these sales for $0.25 college ruled 1-subject notebooks. You can score the $0.25 price on your first 30 notebooks so pick them up for all your kids and for the entire school year!
In addition to the $0.50 deals, lots of $0.75 deals continue this week such as Staples brand #2 Wood Pencils 12-count, Staples brand erasers, pencil sharpeners and more!
The Staples Copy Paper, 500 Sheets is on sale for Buy 1 Get 1 FREE this week making these just $3.49 each after sale. You can't beat that price. BUT, if you think you might be able to find a better deal, you can shop with confidence because Staples offers a 110% price match guarantee, matching any competitor's pricing, and offering an additional 10% discount of the difference between the Staples price and competitor's price at the time of purchase.  How cool is that?!
One of my favorite deals this week at Staples is the FREE Bic Soft Feel Pens you can score. The 5-packs are on sale for an amazing price – just $0.75! Plus we have this awesome $1/1 BIC Stationery product coupon from the 8/26 Smart Source insert making these completely FREE! Time to stock up!
I'm so happy to see the $0.50 deals back at Staples this week! Score so many of your child's back to school essentials such as Staples brand rulers, glue, composition books and Crayola crayons.
That's just two quarters guys! I am totally stocking up for the whole school year, even though these products are in stock at Staples all season long. I can always count on the best assortment of products to meet the needs of my whole family.
Score BIC highlighters and mechanical pencils for just $1 this week after the $1/1 BIC Stationery product coupon from the 8/26 Smart Source insert.
Don't forget the teachers this back to school season! It's always nice to help stock the classroom with supplies and necessities and top on the list is hand sanitizer! Staples has Purell Hand Sanitizer 8+2 oz bottles on sale for just $2.49 this week, plus we have a $1.00/1 Purell Instant Hand Sanitizer; Includes 8 oz or Larger Only coupon available to print making these only $1.49!
Be sure to check out the rest of the Staples Deals for the week before you shop and let us know what deals you're still scoring this week!
This is a Sponsored post written by LRWC on behalf of  Staples.  All content and opinions are 100% our own.
Disclaimer: #Ad #Sponsored