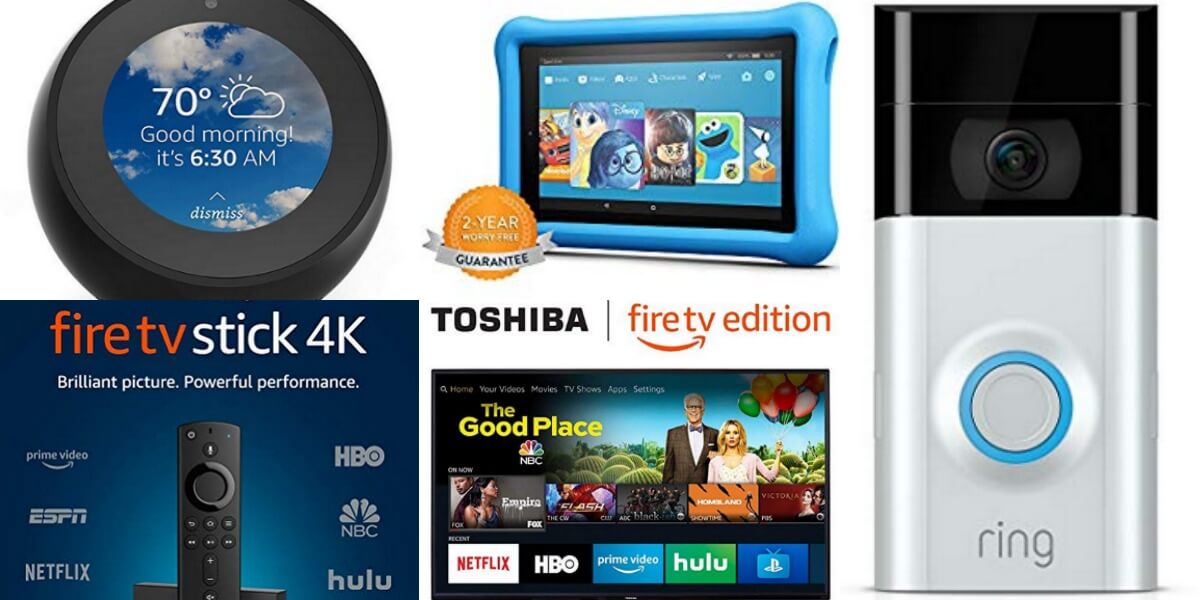 Amazon Black Friday Deals
Start prepping those lists! We have a huge list of Amazon's 7 Days of Black Friday Deals!
From 11/16 – 11/23/18 Amazon will be offering deals from toys, electronics, fashion, beauty, kitchen, home & more!
All of the items will be available for Free Shipping for EVERYONE!
The deals included below will be available on various dates and times between November 16 and November 23 (Black Friday), while supplies last HERE!
Amazon Devices
Save $25.99 on All-New Echo Dot, only $24.00
Save $20 on Echo Dot Kids Edition, only $49.99 – and save $110 total when you buy three Echo Dot Kids Edition devices, only $99.97
Save $30.99 on Echo (2nd generation), only $69 – and save $80 total when you buy two Echo (2nd generation) devices, only $119.98
Save $30.99 on Echo (RED) edition, only $69.00 –for every Echo (RED) edition sold Amazon will donate $10 to the Global Fund
Save $40 on All-New Echo Plus, only $109.99
Save $40 on Echo Spot, only $89.99 – and save $100 total when you buy two Echo Spot devices, only $159.98
Save $50 on All-New Echo Show, only $179.99 – and save $120 total when you buy two All-New Echo Show devices, only $339.98
Add an Amazon Smart Plug to any Echo device for only $5
Save $15 on Fire TV Stick 4K with all-new Alexa Voice Remote, only $34.99
Save $60 on Fire TV Cube with Far-Field Voice Control and 4K UHD/HDR, only $59.99
Save $50 on Fire TV Recast 500 GB with two tuners, only $179.99—and save an additional $10 when you purchase Fire TV Recast 1 TB with four tuners, only $219.99
Save $50 on Toshiba 32" 720p HD Smart TV – Fire TV Edition, only $129.99
Save $60 on Insignia 39" 1080p Full HD Smart TV – Fire TV Edition, only $189.99
Save $100 on Toshiba 50" 4K Ultra HD Smart TV – Fire TV Edition, only $299.99
Save $20 on Fire 7 tablet with Alexa, only $29.99
Save $30 on Fire 7 Kids Edition tablet, only $69.99
Save $30 on All-New Fire HD 8 tablet with Alexa Hands-Free, only $49.99
Save $40 on All-New Fire HD 8 Kids Edition tablet, only $89.99
Save $50 on Fire HD 10 tablet with Alexa Hands-Free, only $99.99
Save $51 on Blink XT 1-Camera System, only $78.99—and save $90on Blink XT 3-Camera System, only $229.99
Save $60 on Ring Video Doorbell 2, only $139.00—plus, customers will have the option to add the all-new Echo Dot to their purchase of the Ring Video Doorbell 2 for no additional cost
Electronics
Save over 20% on Samsung EVO Select 128GB micro SD card
Sony's XBR55X900F Amazon's Choice High Performance TV (2018 Model), only $1098.00
Sony's XBR65X850F 65-Inch 4K TV (2018 Model), only $998.00
Sony's XBR75X850F 75-Inch 4K TV (2018 Model), only $1,798.00
Save over 15% on select Samsung QLED 2018 TVs, now through Cyber Monday
Save over 15% on select Samsung NU8 series 2018 TVs, now through Cyber Monday
Save up to 15% on LG Electronics 2018 Smart 4K TVs
Save big on select Chromebooks
Save big on Acer predator Gaming Laptop
Save big on Cyberpower Gaming Desktop
Save big on Dell 34.1″ curved gaming monitor
Save big on sceptre 27″ curved gaming monitor
Save 25% on HP Sprocket Portable Photo Printer, only $89.99
Save 50% on HP OfficeJet 5255 Wireless Printer, only $49.99
Toys
Save up to 40% on select top toys from Barbie, Hot Wheels and more
Save up to 40% on select baby and preschool toys from Fisher-Price
Save up to 30% on select strategy board games
Save up to 30% on select party games for grown-ups
Save up to 30% off the littleBits Avengers Hero Inventor Kit
Save on Osmo Genius Kits and more learning toys
Save big on Amazon Exclusives including the Radio Flyer My 1st Scooter, VTech Sit-to-Stand Learning Walker, and more
Save big on building toys including the KNEX Imagine – Click and Construct Building Set with 35 Models
Fashion
Save up to 50% off men's and women's fashion from Amazon brands, including Amazon Essentials, Goodthreads and Daily Ritual, now starting at under $15
Save up to 45% on select adidas Apparel, Bags, Shoes and Accessories
Save up to 50% off select Denim, including styles from J.Crew, DL1961 and True Religion
Save up to 50% off select Calvin Klein Underwear
Save up to 70% off select Samsonite luggage
30% off select fashion, including styles from Alo Yoga, New Balance, Hugo Boss, Lacoste and The Children's Place
Save up to 50% off select Izod Men's Tops & Bottoms
Save up to 35% off Best-Sellers from select Top Watch Brands
Household and Home Furnishings
Save up to 25% on gifts and accents for the home from Amazon brands, including Rivet and Stone & Beam
Save up to 40% on office chairs from Amazon brands, including AmazonBasics, Rivet and Stone & Beam
Save up to 25% on AmazonBasics products such as kitchenware and electronics
Save up to 30% on everyday essentials from Amazon brands, including AmazonFresh, Solimo, and Mama Bear
Save up to 20% on top-selling sous vides
Save up to 40% on select blenders
Save up to 35% on select mattresses, furniture and area rugs
Save 20% or more on select Now House by Jonathan Adler furniture
Save up to 30% on select air fryers
Save up to 40% on select coffee makers
Save 30% on Traeger Renegade Pro Wood Pellet Grill
Save up to 40% on Holiday Airblown décor with Gemmy
Smart Home
Save up to 35% off select Sylvania Light Bulbs
Save up to 40% on Philips Hue Smart Lighting
Save up to 46% off on select TP-Link products
Save 35% on Hive Smart Thermostat with Hub
Gaming
Save $100 on a Xbox One S
Save $100 on a Xbox One X
Xbox One X Fallout 76 Bundle, only $429
Xbox One X NBA 2K19 Bundle, only $429
Xbox One S NBA 2K19 Bundle, only $229
Xbox One S Battlefield Bundle, only $229
Purchase Nintendo Switch for $299.99 and receive Mario Kart 8 Deluxe as a full game download code in-box at no additional cost, a $59.99 value
Audible, Music, & Books
For a limited time, save 53% on an Audible membership for 3 months at $6.95 a month
For a limited time, new Amazon Music Unlimited customers can get three months of the premium streaming tier for just $0.99 and enjoy unlimited access to more than 50 million songs and hands-free listening with Alexa
Save up to 80% on select Kindle best-selling books
Get 3 months of Kindle Unlimited for $0.99 – Enjoy unlimited access to over 1 million books, popular magazines and thousands of books with Audible narration. Offer valid for new subscribers only
Pets
Save over 20% on PetSafe Laser Chase Automatic Laser Cat Toy
Save 20% on Solvit PetSafe PupSTEP Plus Pet Stairs, Foldable Steps for Dogs and Cats
Sports & Outdoors
Save on Suunto Spartan Trainer Wrist HR – Black and more
Save up to 26% on all Assault Fitness cardio equipment
Save up to 20% on the new FITBENCH Flex
Save up to 22% on the Life Fitness IC1 exercise bike
Save 20% on Thule
Automotive
Save 20% on ChargePoint Home WiFi Enabled Electric Vehicle (EV) Charger
Save 25% on Reese Explore ProSeries 63153 Rambler
Save $25 on all DieHard tires
Small and Medium-sized Businesses on Amazon Handmade, Amazon Exclusives and Amazon Launchpad
Save over 50% on Ongaro Beauty Organic Neck & Décolleté Cream
Save over 30% on The Gentlemen's Beard Premium Beard Balm Leave-in Conditioner & Softener
Save over 20% on GoPets Premium Cat Scratcher
Save over 20% on REVEAL Portable Wireless Bluetooth Bamboo Speaker & Phone Charger
Save up to 20% on Two Tumbleweeds Foodie & Mixology Dice
Save 20% on Cupology Mugs
Save 20% on Little Bee of Connecticut Handmade Décor
Save up to 30% on select party games for grown-ups including Exploding Kittens
---
For Even More Awesome Online Deals