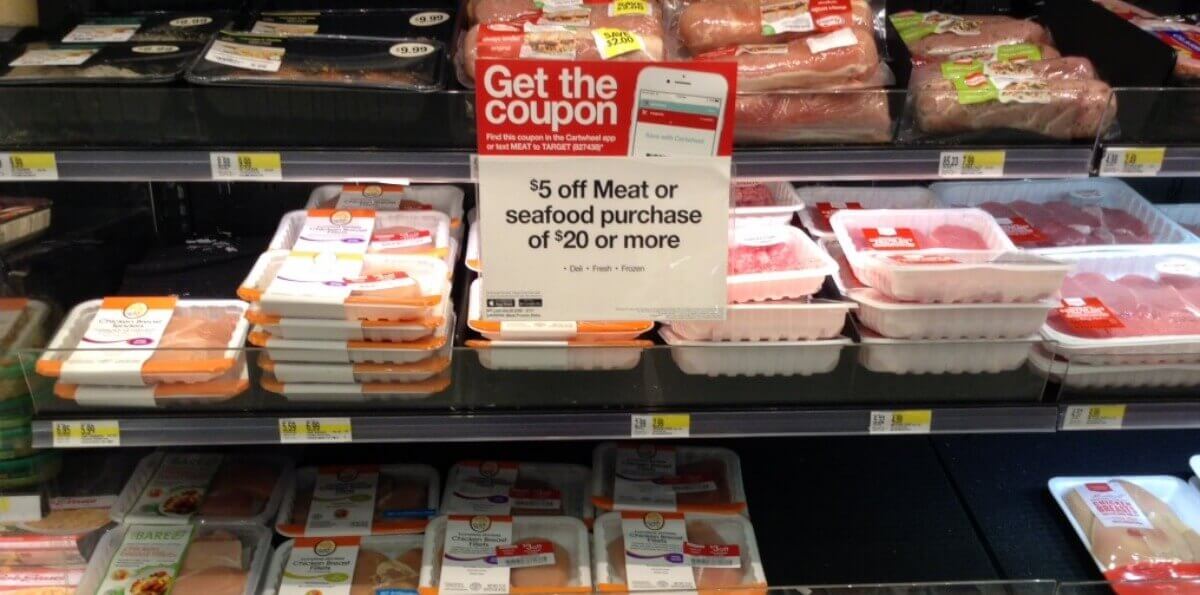 Yay! I love this deal, this week, through 6/1, Target is offering a $5 Target Gift Card with a meat purchase of $20 or more. This coupon is available in this week's Target Ad or you can find this coupon in Wallet in the Target app. Includes: • Fresh • Frozen • Deli
These deals are great because they allow you to stock up on products that you need, make sure to check the LRWC Coupon Database to find all of the current meat coupons that are available.
Stack Target Cartwheel
There are also some nice Meat & Deli Target Cartwheel Offers that are available this week. We have come up with some nice deals to get you started, but make sure you share the deals that you score as well!
Target Manager Special Meat
Don't forget, this is also a great time to keep an eye out for Manager's Special Meat, these usually have their own coupons on the package and can be put right in the freezer for a later time! The price of the meat tracks, for the coupon, BEFORE the deduction of the manager special coupons. You can really find some great deals this way.
Deal on Market Pantry Ham
Also, one deal in particular you'll want to check out is the Market Pantry Spiral Cut Ham. There is currently a Target Cartwheel offer for 70% off
Technically if you were to buy $20 worth of the Market Pantry Spiral Cut Ham and used the 70% off Cartwheel offer, that would drop the price of the ham to just $6. Then you would get a FREE $5 Target Gift Card making that $20 worth of ham just $1. What?!
For the Honeysuckle White Frozen Turkey, you could buy $20 worth, use the 50% off cartwheel making it just $10 and get back a $5 Target Gift Card making it just $5.
Of course, your chances of buying exactly $20 worth of these products is slim as there are set sizes available in the store however, these savings are huge. These are just to give you an example of how to score the deals.
Meat Coupons
Here are some meat coupons you can also stack with the deal for even more savings
Here are your deals at Target

More Ways to Save at Target
---
More Target Deals You'll Love: