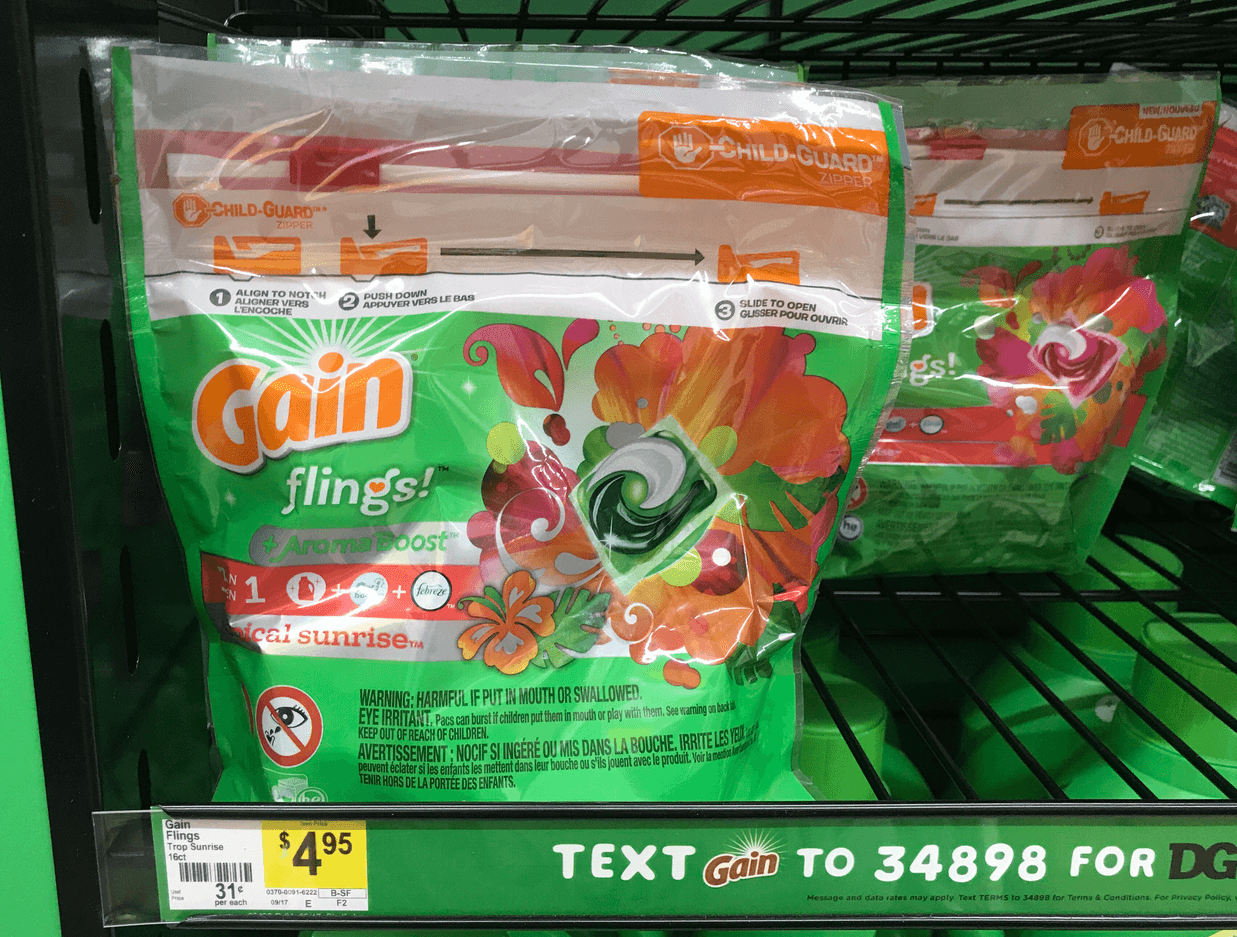 Woot! Here is another great deal for you from Dollar General! Through 12/8, 12 to 14 count Gain Flings are on sale for $3.95!
Here are the available offers:
$2/1 Gain Fling, Gain Powder or Gain Liquid Detergent (includes Botanicals) (excludes Fireworks, ets) (LIMIT 1), exp. Varies
$2/1 Gain Powder, Gain Flings or Gain Liquid Detergent (including Gain Botanicals) (Excludes Firework, Flings 9ct and below and Trial/Travel ) (LIMIT 1), 11/11 RMN (R), exp. 12/08/2018
$1/1 Gain Powder, Gain Flings, OR Gain Liquid Laundry Detergent. Includes Gain Botanicals. (excludes Gain Fabric Enhancer, Gain Fireworks, Gain Flings 9ct and trial/travel size) DG Digital Coupon
$3/3 Gain Detergent Liquid, Flings or Powder and/or Fabric Enhancers, Fireworks, Dryer Sheets or Liquid Fabric Enchancer, (Purchase must include 1 Detergent and 1 Fabric Enchancer (Includes Botanicals) (excludes Flings 9 ct below, Dryer Sheets 40 ct and below ets) (LIMIT 1), exp. Varies
$3/3 Gain detergents or fabric enhancer must include one of each excluding flings 9ct or less and dryer sheets 9ct or lower (LIMIT 1), 11/25 PG, exp. 12/29/2018
After coupon, we can snag these for just $1.95! Grab some on your shopping trip this week!
Here is your Dollar General deal through 12/8:
More Ways to Save at Dollar General
---
More Dollar General Deals You'll Love: