Note: The Gas Rewards are a Limit of 5 Offers and You Must Have a $25 Additional Purchase
It's that time again!  Time to check out what deals we can score at Stop & Shop beginning Friday, 11/22 with their new gas reward offers!  This week we have 2 gas reward promotions. The first deal is Buy 6 participating products and earn 300 gas reward points, which is equal to $6.00 ($0.30 off per gallon, up to 20 gallons of gas).
If you are not familiar with Gas Rewards here is a breakdown…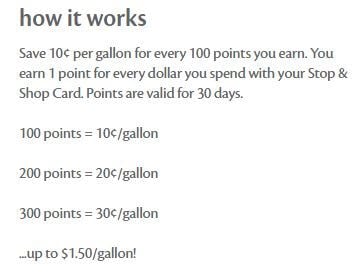 There are always many different deal ideas you can work with gas reward deals depending on what you want, need and have coupons for.
The best deal I'm seeing here is to pick up a Combination of items. Buy 4 of the Treasure Cave Cheese priced at $2.50 each, and Buy 1 of the Heinz BBQ Sauces priced at $1.50 each. we have a Save $0.75 on any ONE (1) Treasure Cave® Cheese Product, printable coupon available.
Assuming you can score this deal exactly as written with the full 20 gallons of gas you can score all 5 items Completely FREE + Make $0.50 on the deal.
Here are the additional items participating in this offer:
For our second Gas Rewards Deal we have "Buy 6 Get 400 Gas Rewards" Deal.
Included in the deal is Pop-Secret Popcorn 6pks priced at $3.29 each, also included is Crisco Oil, Smart Balance Spreads, or Smucker's Jams, Jellies, or Preserves all priced at $3.00 each.
We don't have any coupons available for these products but we do have a $1/1 Pop Secret any variety 6 ct box (LIMIT 5) (Various Stores), Ibotta Rebate, available.
Assuming you can score this deal exactly as written below with the full 20 gallons of gas we will pay just $1.08 per item! Nice deal!
Alternatively we set you up with a deal idea to score the DiGiorno Pizzas and the Popcorn for as low as $2.48 each.
Here are the additional items participating in this offer:
Here are your deals at Stop & Shop
Beginning 11/22:
This List Has Expired
This week's Stop & Shop Gas Preview
Buy 6 Get 400 Gas Rewards – a single $25 Minimum Purchase and Limit 5 Offers Per Household
Buy 5 Get 300 Gas Rewards – a single $25 Minimum Purchase and Limit 5 Offers Per Household
More Ways to Save at Stop & Shop
---
More Stop & Shop Deals You'll Love: